Things to Do & Places to Eat!
Destin, located on Florida's Emerald Coast, is known for its white beaches, crystal-clear waters, and vibrant culinary scene. Here are some of the best things to do and places to eat in Destin, Florida.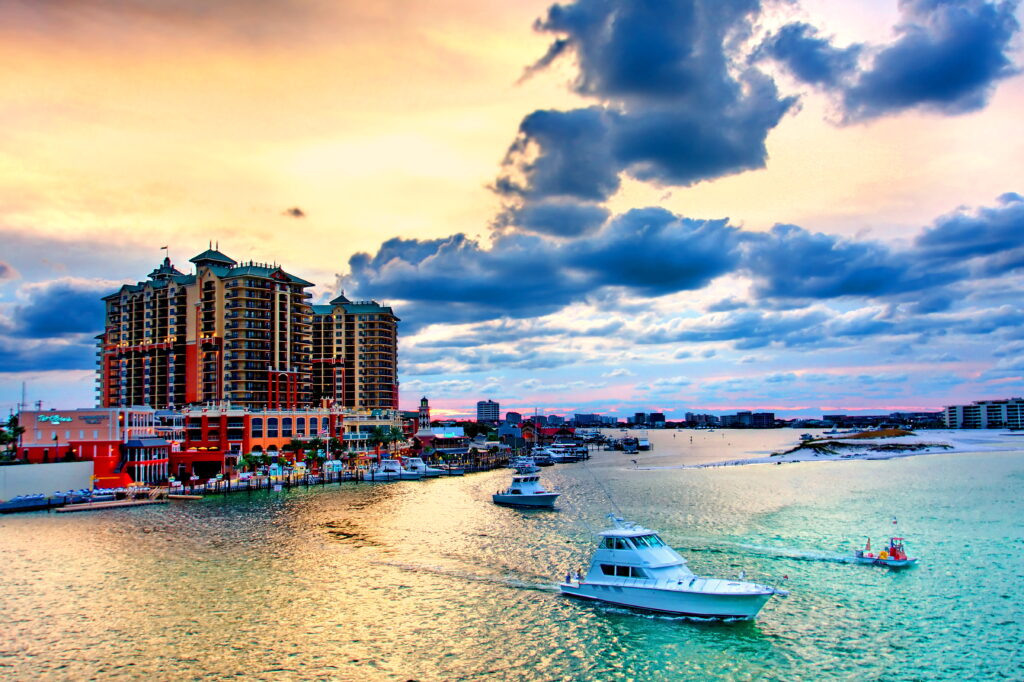 1. Enjoy the Beaches:
With its sugary white sands and crystal-clear waters, the beaches are a must-visit in Destin. Henderson Beach State Park is a popular choice, with over a mile of natural scenic shoreline. There are also playgrounds and picnic areas if you're planning a family outing.
2. Try Watersports:
Whether you're into jet-skiing, paddleboarding, or kayaking, Destin's clear waters provide an ideal setting for watersports. Companies like Destin's Ultimate Guide Service or Wet-N-Wild Watersports can help you arrange your water adventures.
3. Go Fishing:
Known as the "World's Luckiest Fishing Village", Destin is a paradise for anglers. The city's fishing fleet is the largest in the state of Florida. You can charter a boat and head to the Gulf of Mexico for a chance to catch amberjack, grouper, snapper, and even sharks.
4. Visit the Destin Harbor Boardwalk:
A stroll along this boardwalk lets you take in beautiful views of Destin Harbor. The area is bustling with restaurants, shops, and various attractions. The boardwalk also hosts numerous events throughout the year, so be sure to check out the schedule.
5. Go to Crab Island:
Click here to learn more about this very popular sandbar:
6. Big Kahuna's Water & Adventure Park:
Big Kahuna's is a popular spot, especially for families. This expansive park features water rides, miniature golf, go-karts, and much more. It's a great way to stay cool in the Florida heat and provides a fun-filled day for all ages.
7. Visit Destin History & Fishing Museum:
Learn about Destin's history as a small fishing village at this fascinating museum. Exhibits cover the history of fishing in the area, the evolution of fishing technology, and the diverse marine life in the Gulf of Mexico.
8. Destin Snorkel Tours:
Explore the underwater world of the Gulf Coast with a snorkeling tour. These guided tours will lead you to the best spots where you can see an array of marine life, including fish, sea turtles, and more.
9. Silver Sands Premium Outlets:
For those who enjoy shopping, the Silver Sands Premium Outlets is the largest designer outlet in the country. With more than 100 stores, it's a great place to find deals on brand-name and designer goods.
10. Scenic 98:
Take a drive or bike ride down this scenic route. It runs parallel to the coast and offers stunning views of the ocean, sand dunes, and beautiful beach houses. There are plenty of places to stop for a picnic or to take a swim.
PLACES TO EAT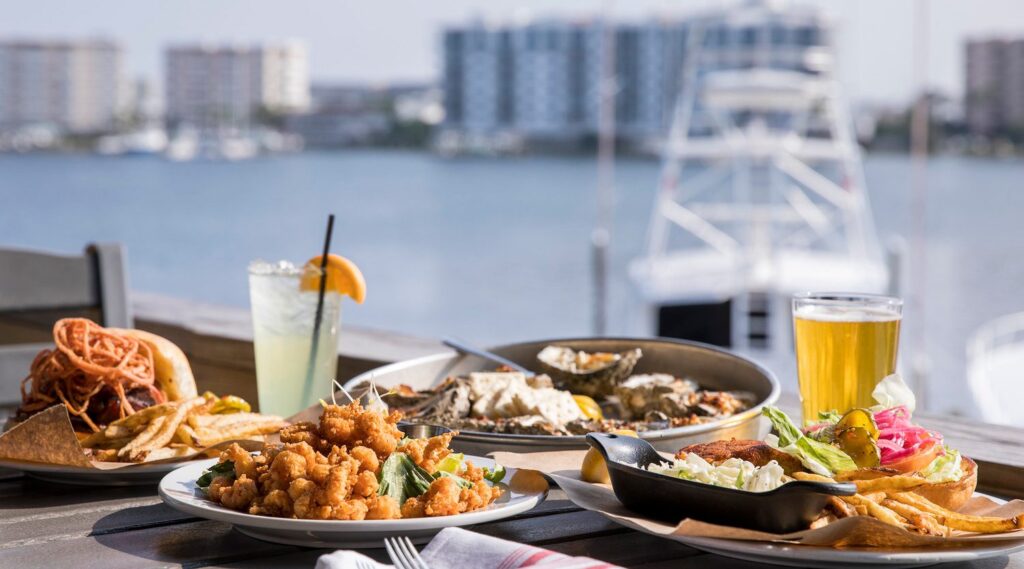 1. Dewey Destin's Seafood:
With several locations around Destin, Dewey Destin's is a beloved local chain serving fresh seafood right on the water. Try the catch of the day or go for a classic seafood basket.
2. Boshamps Seafood and Oyster House:
Boshamps serves Gulf-to-table seafood in a casual setting with stunning views of Destin Harbor. They're famous for their oysters and the Gulf Coast seafood dishes.
3. McGuire's Irish Pub:
This lively Irish pub is known for its steaks, homemade brews, and eclectic decor (over a million signed dollar bills cover the walls and ceiling). It's a fun spot for the whole family, offering a broad menu that goes beyond typical pub fare.
4. The Donut Hole Bakery Cafe:
No visit to Destin is complete without a stop at The Donut Hole. This local favorite serves amazing breakfast all day and a variety of fresh donuts, from classics like glazed and powdered sugar to specialty donuts like key lime filled.
5. Mimmo's Ristorante Italiano:
If you're in the mood for Italian, Mimmo's is a popular choice. They serve authentic Italian dishes, including a variety of pizzas, pastas, and main courses, all in a warm and inviting atmosphere.
Remember, every traveler's tastes are different. These suggestions provide a starting point for your adventure in Destin. Enjoy exploring this beautiful part of the Florida coast!
6. Louisiana Lagniappe:
Located in the Sandpiper Cove condominium complex, Louisiana Lagniappe offers a blend of Floridian and Louisianian cuisine. The stunning sunset view from the outdoor deck is an added bonus. The grouper is a house specialty.
7. Beach Walk Cafe:
This upscale dining option is known for its romantic atmosphere and beautiful views of the Gulf. They serve a variety of dishes, but their seafood, especially the Gulf shrimp and scallops, are particularly lauded.
8. Harbor Docks:
This casual waterfront restaurant has been a Destin mainstay since 1979. Their sushi is among the best in the area, and they also serve a range of fresh seafood and other dishes.
9. Camille's at Crystal Beach:
Camille's is a local favorite for both their seafood café and their sushi bar. The café also serves a fantastic breakfast, with the crab cake benedict being a popular choice. Located across the beach on Scenic Highway 98.
10. The Craft Bar:
If you're a craft beer enthusiast, this is your place. The Craft Bar offers a great selection of artisanal beers along with a food menu consisting of upscale pub fare.
Destin's variety of activities and dining experiences make it a versatile destination that can cater to almost any preference. Whether you're there for the beaches, the fishing, the food, or the shopping, there's something for everyone.
What's next? Where to stay!