Destin Florida Travel Guide
Located in Walton County, Florida, Destin is the heart of the Emerald Coast. This area is known for its beautiful white sand beaches, year-round warm weather, sportfishing and diverse wildlife. If you're looking for a relaxing vacation spot, then Destin is definitely worth checking out.
In recent years, it has become a major tourist destination, attracting visitors from all over the world. The area offers plenty of activities and attractions such as golf courses, shopping centers, restaurants, museums, parks, and much more. Whether you're looking for a relaxing beach vacation or an action-packed adventure, Destin has something for everyone. In this travel guide, you will find out everything you need to know before planning your Destin trip!
Best time to visit Destin
April and May are the best times to visit Destin. The water is warm, the sun is shining, and the temperatures are comfortable. You can expect highs in the mid-70s and 80s. If you visit any earlier, be prepared for cooler weather and chilly water.
A summer trip will put you among the crowds and the peak prices. However, you will be able to enjoy all that Destin has to offer, including the many activities available.
If you are interested in seeing some of the local sights, then fall is also an excellent choice. Many of the popular attractions close for the winter months, but they open back up again in the spring.
Weather in Destin
Destin is known for its beautiful weather. The average temperatures in Destin range from the mid-60s in the winter to the mid-80s in the summer. The area experiences very little rainfall, so there are plenty of sunny days to enjoy the beach. The gulf breeze also keeps things comfortable even on the hottest days. If you're looking for a place to escape the cold weather, Destin is the perfect place to enjoy some warm sun and sand.
How to get there
There are many ways to get to Destin, but the two most popular are by car or by plane. If you choose to drive, you can take I-10, which is the major highway running North of the city. Or, you can take the scenic route along 30A, which runs along the Florida coast. Either way, you will enjoy the beautiful scenery on your way to Destin.
If you choose to fly, there are multiple airports that serve the city. Tampa International Airport serves as the closest airport, but many people choose to fly into Fort Walton Beach Airport.
How to get around Destin
There are several ways to get around Destin. You can rent a car, take taxi, or public transportation. Renting a car is by far the most convenient option. It allows you to explore the entire city without being restricted by schedules. Taxi and Uber are another good way to get around town and easy to call. Public transportation is not very common in Destin, but it does exist. Bus routes run throughout the year, and the bus stops are usually clearly marked.
Where to stay in Destin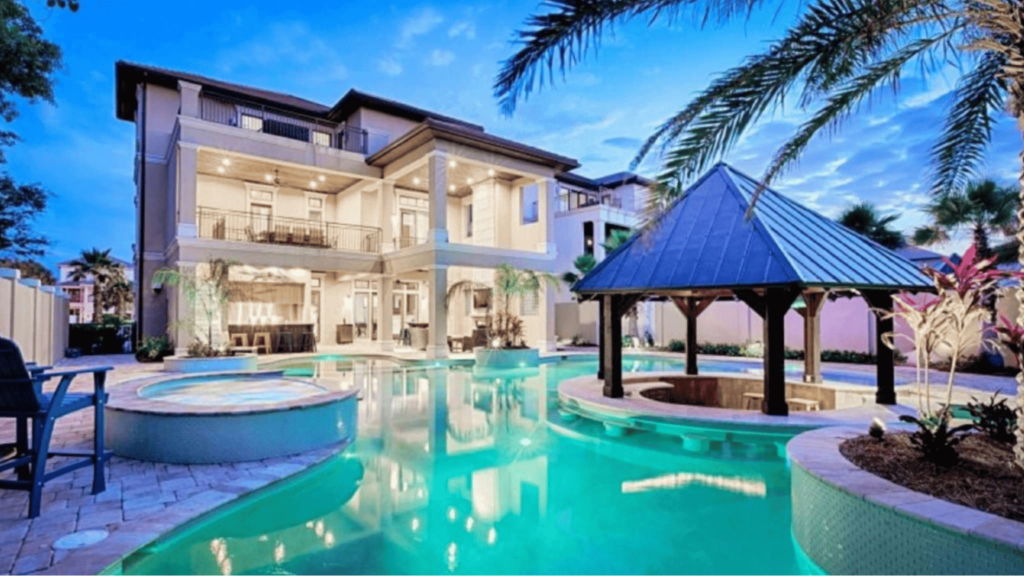 You can find a variety of accommodation options to suit any visitor. For small groups, there are hotels and motels to choose from. But if you are traveling with a large group, there are many spacious vacation homes and villa rentals available in Destin. Many of these rentals come with amenities like fully equipped kitchens, private pools, and lots of indoor and outdoor space for everyone to spread out. If you furry friend is coming along, there are pet-friendly vacation rentals too!
What to do in Destin
If you find yourself in Destin, Florida, there's no shortage of things to do. From parasailing and jet skiing to shopping and exploring the Gulfarium, there's something for everyone. Here are some of the top things to do in Destin:
Take a Parasailing Adventure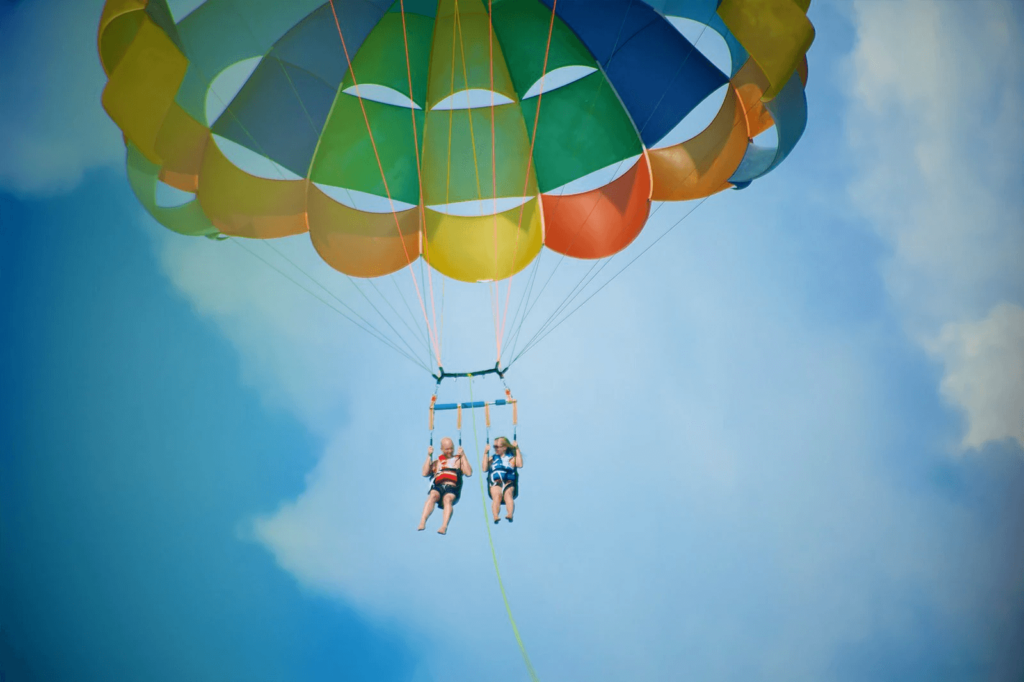 Parasailing is a great way to get a bird's eye view of the gorgeous Emerald Coast. There are plenty of operators in Destin that offer parasailing tours, so you're sure to find one that fits your budget and schedule.
Jet Skiing in the Gulf
One of the best ways to explore the Emerald Coast is by jet ski. There are numerous rental operators in Destin, so you can easily find one that offers jet skis for rent by the hour or day.
Shopping in Destin
If you love to shop, you'll be in heaven when you visit Destin! This beautiful city is home to a wide variety of stores, from outlets to high-end retailers. You're sure to find exactly what you're looking for, no matter what your budget may be.
One of the most popular shopping areas in Destin is Silver Sands Premium Outlets. This massive outdoor mall features over 100 name-brand stores, including Ann Taylor, Nike, and J. Crew. You'll find great deals on designer clothing, shoes, and accessories. Silver Sands is the perfect place to stock up on all your vacation essentials.
If you're looking for a more upscale shopping experience, check out Destin Commons. This stylish outdoor mall features stores like Anthropologie, Williams-Sonoma, and Lululemon. You can also enjoy a meal at one of the many restaurants or catch a movie at the 14-screen AMC theater. Destin Commons is the perfect place to spend a leisurely afternoon exploring all the unique shops and businesses.
Relax on the beach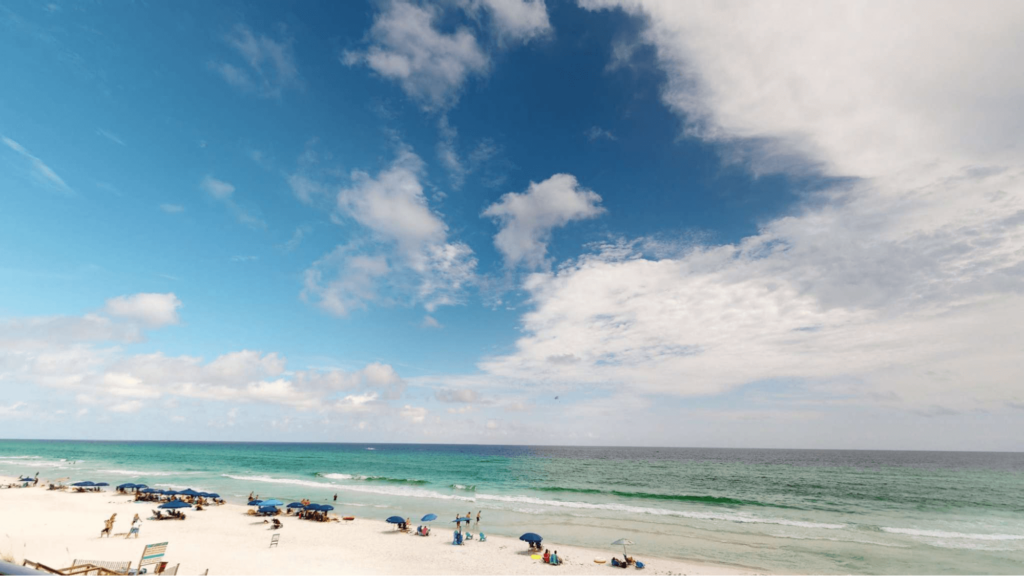 The beach is the main attraction in Destin and it's hard to miss. The emerald waters and white sandy beaches are very appealing to visitors. There are many beach access points in the city so you can find one that suits you. The beaches are great for fun in the sun or ultimate relaxation. Whichever your style, you're sure to enjoy the beach in Destin. Just make sure to bring your bathing suits along, because once you hit the water, you'll probably never want to leave!
Camping in Destin
Camping at Henderson Beach State Park is a truly unique experience. The campground is located on the north side of the park, just off Highway 101. This 200-acre state park is home to 60 campsites, a playground, nature trail, and boardwalks for beach access.
The campsites are spacious and well-equipped with electrical hookups, water, and picnic tables. Additionally, the campground also has a playground, restrooms and shower stations. The highlight of the campground, however, is its proximity to the beach.
Within minutes of setting up camp, you can be soaking up the sun on the sandy shores of the Gulf of Mexico. Henderson Beach State Park is the perfect place to relax and enjoy nature. Whether you're an experienced camper or new to the outdoors, you're sure to have a memorable experience at this incredible state park.
Charter fishing
Destin is a top spot for fishing. The city has the largest charter fishing fleet in Florida, and it is known as one of the "luckiest fishing ports in the world". There are many different charter companies to choose from, and they offer a variety of different fishing excursions. Whether you want to try your hand at marlin fishing or go after something smaller, you're sure to have an enjoyable experience. And who knows? Maybe you'll even catch the big one!
Play a round of golf or two
You don't have to be a beach lover to enjoy everything that Destin has to offer. This city also caters for golfing fans, with several world-class golf courses located nearby. If you want to base your trip around golf, you can stay at specialist resorts like the Seascape Resort, or just book a tee time at Regatta Bay or the Kelly Plantation. Either way, you're guaranteed to enjoy some of the best golfing in the country.
Go wild at a water park
Big Kahuna's Water & Adventure Park is the perfect spot for a family day out. With rides, slides, waves, rivers, and pools galore, there's something for everyone. The kiddie rides and racing slides are perfect for the little ones, while the meandering rivers with falls, chutes, twists, and turns are sure to get the adrenaline pumping. And when you're all worn out from all the fun, you can relax in the lazy river or take a dip in one of the pools.
Go on a dolphin cruise
The Gulf of Mexico is a great place to watch dolphins in the wild, so if you've ever had the desire to get to know these intelligent animals, Destin is the place to do so. Head down to Dolphin Cruises at the Harborwalk Marina to join cruises all summer long. You'll not only get the chance to see dolphins up close, but you'll also learn all about their habits and behavior from our expert guides. And don't forget to keep an eye out for other wildlife, like turtles, pelicans, and rays!
Meet the animals at the Gulfarium
Gulfarium Marine Adventure Park is one of the best places to see a variety of marine animals up close. The exhibits are designed to closely resemble the animals' natural habitats, and there are even animal shows throughout the day that are both entertaining and educational. The park isn't very big, but it packs a lot of punch, and it's definitely worth a visit if you're in the area. You'll have a chance to see dolphins, sea lions, sharks, and more, and you'll learn a lot about these amazing creatures in the process.
See marine wildlife
The Gulf of Mexico is home to a diverse array of marine life, and there are plenty of ways to get up close and personal with the local wildlife. One popular activity is dolphin watching. Harborwalk Marine offers dolphin tours that allow you to get a close look at these amazing creatures in their natural habitat.
If you're interested in learning more about the local marine life, take a glass-bottomed boat tour with Southern Star. These tours provide an educational look at the fish and other animals that live in the waters of the Gulf. Finally, be sure to check out the dolphin displays at the Gulfarium Marine Adventure Park. These shows are a great way to learn about dolphin behavior and get an up-close look at these fascinating animals.
Take a photo with alligators
If you love all things alligator, then Gator Beach is the place for you! They have more alligators than any other park in the world, and they offer a variety of unique experiences that you won't find anywhere else. Go feed the alligators, hold a baby alligator, or even get your picture taken with one of their massive beasts!
They also have a gift shop full of Alligator-themed souvenirs, so you can take a piece of Gator Beach home with you. Once you visit Gator Beach, you'll see why they're The World's Greatest Alligator Park.
Where to eat
When visiting Destin, be sure to try some local seafood and pubs. There are several restaurants that specialize in serving fresh fish and shellfish. If you want to watch a game and cheer on your team with a pint in hand, drop by a pub in the evening! Here are some of locals favorite spots:
Dewey Destin's Seafood Restaurant
This family-owned restaurant serves fresh, sustainable seafood. Their commitment to using only the freshest seafood caught right here in the Gulf means that no matter which location you visit, you'll enjoy a meal that's as delicious as it is authentic.
When you travel down their gravel drive, you're immediately transported into old Florida. This location, where it all began, may be a shack on the water, but it offers the prettiest views of Crab Island and the best seafood in town. At this location, you do not have a server, but rather order at a window, grab a seat, and take in the view. Don't be surprised when their friendly servers come hollering your name and bring your meal to you.
Go down to the original shack on the Destin harbor and see for yourself what makes this place so special.
Crab Trap Destin
The Crab Trap Destin is a local seafood restaurant that has been serving up fresh, delicious seafood for over 30 years. The restaurant is located in the heart of Destin, right on the harbor, and offers breathtaking views of the Gulf of Mexico.
This restaurant is a favorite among both tourists and locals and offers a wide variety of menu options to suit everyone's taste. From fresh seafood to signature hot crab dip, there is something for everyone at The Crab Trap Destin.
McGuire's Irish Pub of Destin
McGuire's Irish Pub is a Pensacola favorite, serving up traditional Irish pub grub with ales brewed in copper kettles. The pub first opened in 1977 in a small shopping center before moving to its current location in 1982 – Pensacola's original 1927 Old Firehouse. McGuire's is celebrated for its atmosphere, which features more than One Million signed dollar bills hanging from the ceilings and walls. In 1996, a second location opened on the beautiful Destin Harbor. Live Irish entertainment is offered most nights, making McGuire's the perfect spot for an evening out with friends.
Popular beaches in Destin
Who doesn't love the beach? The sand, the sun, and the waves; there's nothing like it. And there are so many different types of beaches around Destin. Some of the most popular ones include:
Miramar Beach
On Miramar Beach, you'll find people lounging and soaking in the sun, or adventure seekers renting jet skis or going on parasail rides. No matter what your preference, you're sure to find plenty of activities to keep you entertained.
South Walton Beach
Nestled atop sugar-white sand dunes and turquoise waters, South Walton Beach is a haven for beach lovers and luxury seekers alike. It's also known as Crystal Pier, a beloved spot for locals and visitors alike. Here, you'll find everything from hotels and restaurants to shopping and entertainment.
Grayton Beach
Grayton Beach is one of the most beautiful places on Earth. The white sand and clear blue water are perfect for relaxing, and the nearby Western Lake provides a stunning backdrop. Families love to play and spend time here, as there are plenty of activities for children of all ages. Wildlife is abundant, and you can often see fish swimming in the shallows. The Grayton Beach fishing charters are well-known among locals, who affectionately refer to them as the "Mosquito Fleet." These boats head out into the Gulf every day, providing visitors with a unique way to experience the area's natural beauty.
Hwy 98 Beach
Highway 98 Beach is a great spot for watching the sunset. It's located between Sandestin and Miramar Beach and is easily accessible from Highway 98. The beach has a wide variety of activities to keep you entertained throughout the day. You can go swimming, sunbathing, fishing, or even kayaking. And in the evening, you can relax on the beach and watch the beautiful colors of the sunset.
Some fun facts about Destin
Destin is a small city with a big heart. And that heart is made up of local businesses. From restaurants to boutiques to art galleries, these businesses give Destin its unique character and charm. They are also the lifeblood of the local economy, providing jobs and supporting vital services and infrastructure. So next time you're planning a trip to the beach, make sure to patronize the local businesses that make Destin such a special place. You'll be glad you did!
The next time you're at the beach, take a closer look at the sand. You may notice that it's not as uniform as you thought. In fact, each grain of sand is unique, with its own intricate shape and color. And if you're lucky enough to find yourself on a Destin beach, you'll be treated to some of the softest, whitest sand in the world. The sand here is made up of tiny particles of quartz that have been carried here from the Appalachian Mountains by way of the Apalachicola River. This process began some 20,000 years ago and continues to this day. As a result, the sand here is incredibly pure and white. And because the grains are so perfectly oval, they literally squeak under your feet when you walk on them. It's an experience you won't soon forget!
Now that you have all the information you need, it's time to start planning your trip. Don't forget to check out the official visitor site for Destin as well!
Destin is a beautiful place any time of year and offers something for everyone. So, what are you waiting for? Book your accommodation today and get ready to enjoy everything this wonderful city has to offer.
The 3 most asked questions about Destin by travelers:
Where to stay in Destin, Florida?
There are different options based on the size of your group. If you are traveling with a large group, vacation home or villa rentals is the best option. You will get the whole house which means more space for everyone.
Who flies to Destin, Florida?
There several major airlines fly to Destin. Allegiant Air, American Airlines, Delta, Silver Airways, and United all offer flight service to Destin-Fort Walton Beach Airport (VPS).
What is Destin Florida known for?
Destin is known for its white sand beaches, crystal clear waters, and lush vegetation. It is also a popular destination for fishing, boating, and other water sports.