Our Top 5 Luxury Vacation Rentals in Destin
Destin, Florida boasts sunny weather year-round, an average temperature of 75 degrees, breathtaking views, and beaches known for their sugar-white sand and clear turquoise waters. It is the place to consider if you're looking for the perfect luxury vacation destination on the Gulf of Mexico.
When comparing what type of accommodation to choose from in Destin, there are many reasons to choose a luxury vacation rental may just be your best bet!
It's no secret that even luxury hotel rooms can still feel a little cramped and claustrophobic, and there is always the chance of being disturbed by other guest noise and having to share amenities like a public pools or hot tubs. Alternatively, a luxury vacation rental offers you all the space and amenities of a regular vacation rental, but with added touches that will make your vacation even more luxurious.
Not only do you get more space and privacy but you get all the fantastic amenities that you'd expect from a five-star hotel, like an amazing beach view, a private pool, a gourmet kitchen, BBQ grill, and depending on your itinerary and group size it can be far more cost-effective en masse.
So if you're looking for a more space, privacy, and a well-appointed place to stay in Florida's Emerald Coast, consider a luxury Destin vacation rental. You'll be glad you did!
Below, we've compiled our top 5 luxury vacation rentals in the area to help you start planning your next vacation to the world's luckiest fishing village:
1. Azul Atlantica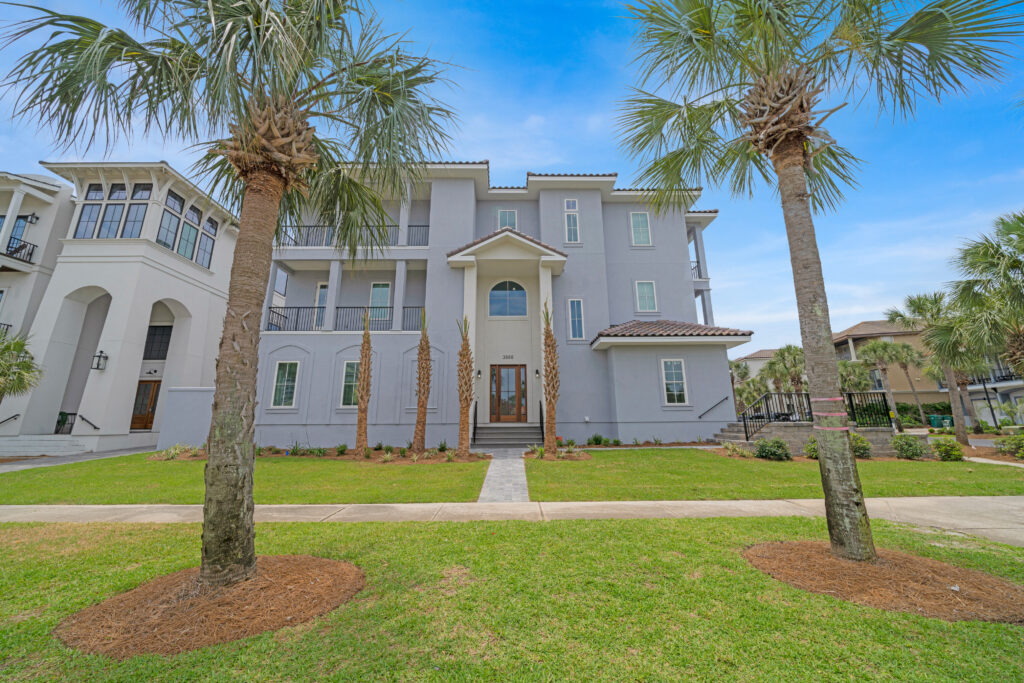 Completed in 2022, Azul Atlantica is a luxury vacation home in the prestigious Dunes of Destin community is a dream come true. There are also two double garages for 3 cars and room for 2 more outside. This magnificent vacation home features sleeping arrangement for 27 guests. Sleeping arrangements on the second floor include two king suites with private baths and balconies for maximum privacy. On the third floor, guests are greeted with plenty of living space and luxurious comforts of home.
Just off of the sitting/living area on this floor is a half bathroom and a wet bar with a sink, microwave and mini fridge. Other nearby conveniences include shopping, live music, festivals, and fireworks at Harbor Walk Village; popular restaurants and bars; grocery stores; and more.
Sleeping arrangements on this floor include a king suite with private bathroom and balcony, a king suite with shared living area full bathroom, a bunk nook with two sets of queen/queen bunks, and another king suite with a private bathroom and balcony.
2. Villa Destiny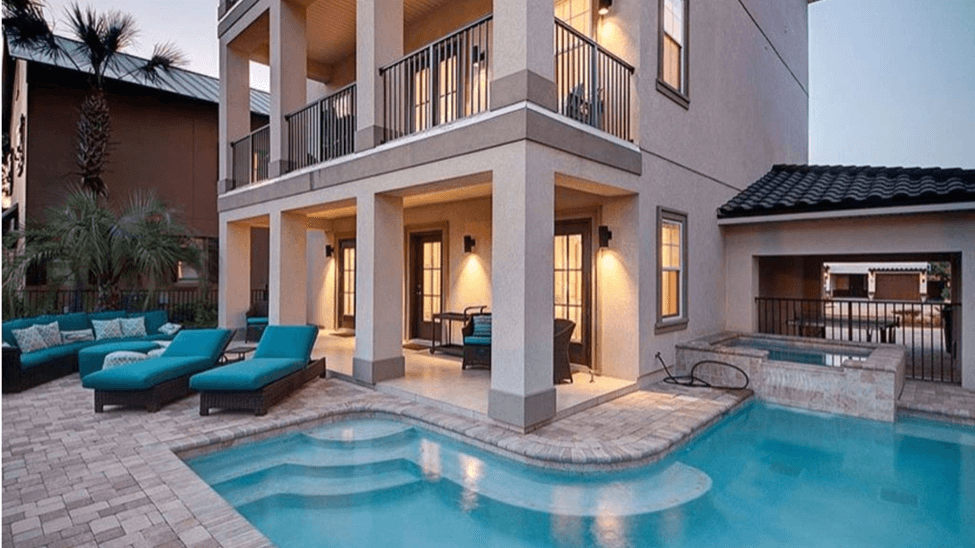 Villa Destiny features 6 bedrooms and 6.5 bathrooms evenly spread throughout the 3 levels. The living area, which features intricate, luxurious details, exudes a serene, coastal ambience. The kitchen is fitted with high-end, stainless-steel appliances and stocked with all of the necessary dishes, utensils, and cookware.
The outdoor area has a basketball court, tennis court, and ping pong table, or spoil yourself with an afternoon nap by the private pool and spa tub, or cookout with family and friends on the outdoor grill! Villa Destiny can accommodate up to 15 guests.
Villa Destiny was most certainly built to please!
3. Over the Top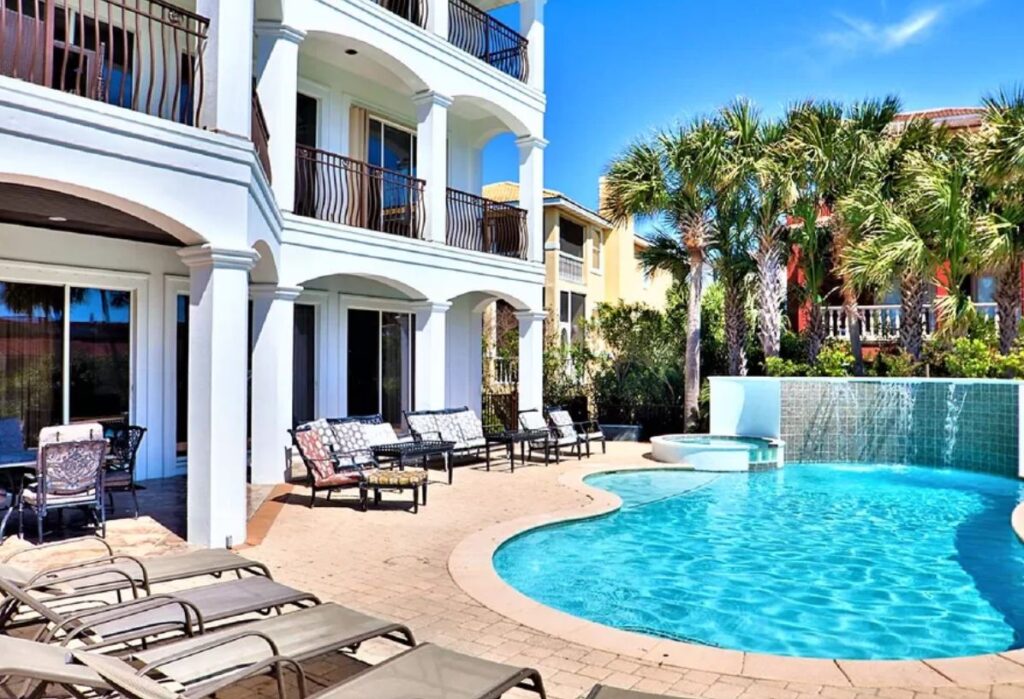 Located in the gated community of Destiny East, Over The Top sits on one of the highest points in Destin. There are three southern decks that run the length of this beautiful beach home. It sleeps 24 guests and has 6 bedrooms and 6 bathrooms.
The main living area has high-end décor and is drenched in natural light throughout the day, making it the ideal place to host or unwind with friends. The gourmet kitchen includes stainless steel appliances, granite countertops, and an island that seats two at a breakfast bar. ideal for chit-chatting while cooking!
This luxury vacation rental is located within walking distance of the Destiny East Community Center, which offers a large pool, a fitness center, tennis courts, basketball courts, a walking/pet path, a large playground, and a private movie theater. Beach access is conveniently located down the street. This home also has public beach access at the Crab Trap.
Shore Thing Getaway
Shore Thing Getaway is a newly constructed luxury property in the Destin/Crystal Beach area with a large private pool/patio and backyard, sleeping arrangements for 22 and high-end finishings throughout the home, and is located very close to the beach.
Guests at this property will enjoy convenient amenities such as an outdoor shower, a fully furnished kitchen with a large island/breakfast bar and a game room complete with an air hockey table.
The first floor will sleep 2 guests in a king suite with a private bathroom, which features a stand-up shower and a walk-in closet. The private pool features a swim-up sun ledge, so the little ones can splash around too! The second floor contains a laundry nook with a stackable washer/dryer, a gaming/entertainment room with an air hockey table, and three bedrooms. All rooms are furnished with storage for clothing/luggage as well as a flat-screen TV and beautiful hardwood flooring.
Family Matters
Are you traveling with a large group of friends and family? Family Matters is the perfect coastal retreat and has everything you need and more if you are looking for luxury and comfort!
This is one of the few homes in the area that also includes an outdoor playset for the kids and features a private 36x16ft pool. This home is a 9-bedroom, 5.5-bath luxury home with nearly 5,000 sq. ft. of total living space. The home sleeps 20 in beds and up to 22 with a sofa sleeper.
The Crystal Beach neighborhood is Destin's best beach area and is a short distance from Destin. The property is situated only 200 yards from beach access on the quiet and un-crowded western end of Scenic Gulf Drive.
Are you ready to enjoy a luxurious experience on your next Destin vacation?
If you are looking for all the comforts of a home with the luxury and amenities of a five-star resort, then look no further and check out our complete luxury vacation rental listing.
We offer a wide variety of Destin vacation rentals that will suit any taste or budget, and our concierge services are second to none and can take care of all the details of your trip so that you can relax and enjoy your time in Destin, Florida.