Our Top 5 Pet-Friendly Vacation Rentals in Destin
Looking for pet-friendly vacation rentals in Destin? You've come to the right place!
Here at Beach Reunion, we have a wide variety of vacation rental properties that welcome pets. Whether you're looking for a beachfront condo, or a spacious home, you will find something that suits your needs.
There are plenty of ways to enjoy Destin with your furry friend by your side. If you're planning for a relaxing vacation or an action-packed getaway with your pet, we've got you covered. We have put together our top 5 pet-friendly vacation rentals in Destin. And best of all, the properties all have a swimming pool so you can sunbathe and swim with your furry friends without going to a beach!
1. Blue Coconut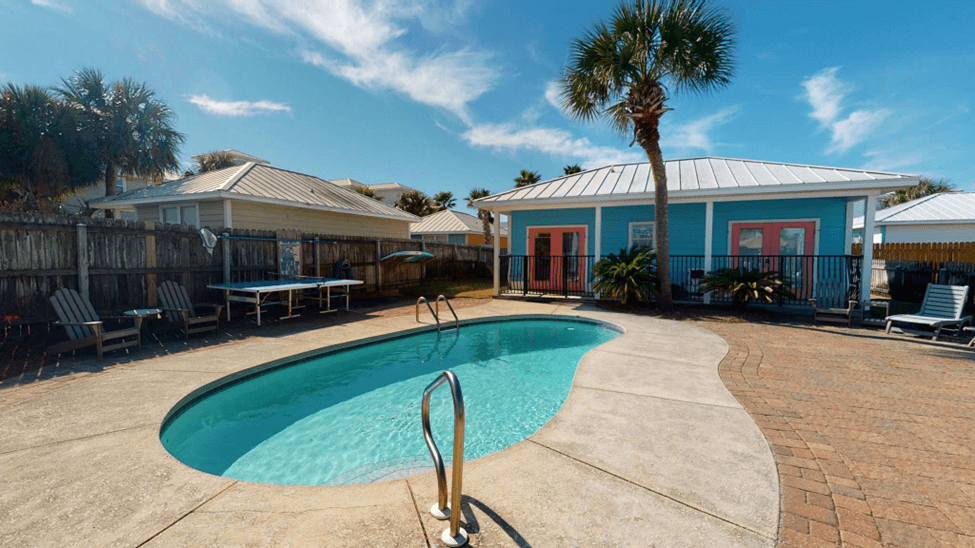 Blue Coconut is the perfect place to enjoy all the amenities and charm of a luxury beach home. This property is 3200ft2 with 6 bedrooms and 5 bathrooms, and it can accommodate up to 24 guests. This home is only about 100 steps away from the beach. It features a beautiful private pool, complimentary 6-passenger golf cart, luxurious and fully equipped kitchen, flat screen TV's and premium bedding. You will get lots of space for you and your family to relax and unwind.
You can also enjoy the stunning views of the Gulf of Mexico from the property's private balcony. With plenty of space inside and out, your furry friend will have a blast exploring all that this vacation home has to offer. From the spacious courtyard to the large deck, your pup for sure will be tired out from all the running and playing within this house.
2. Azul Atlantica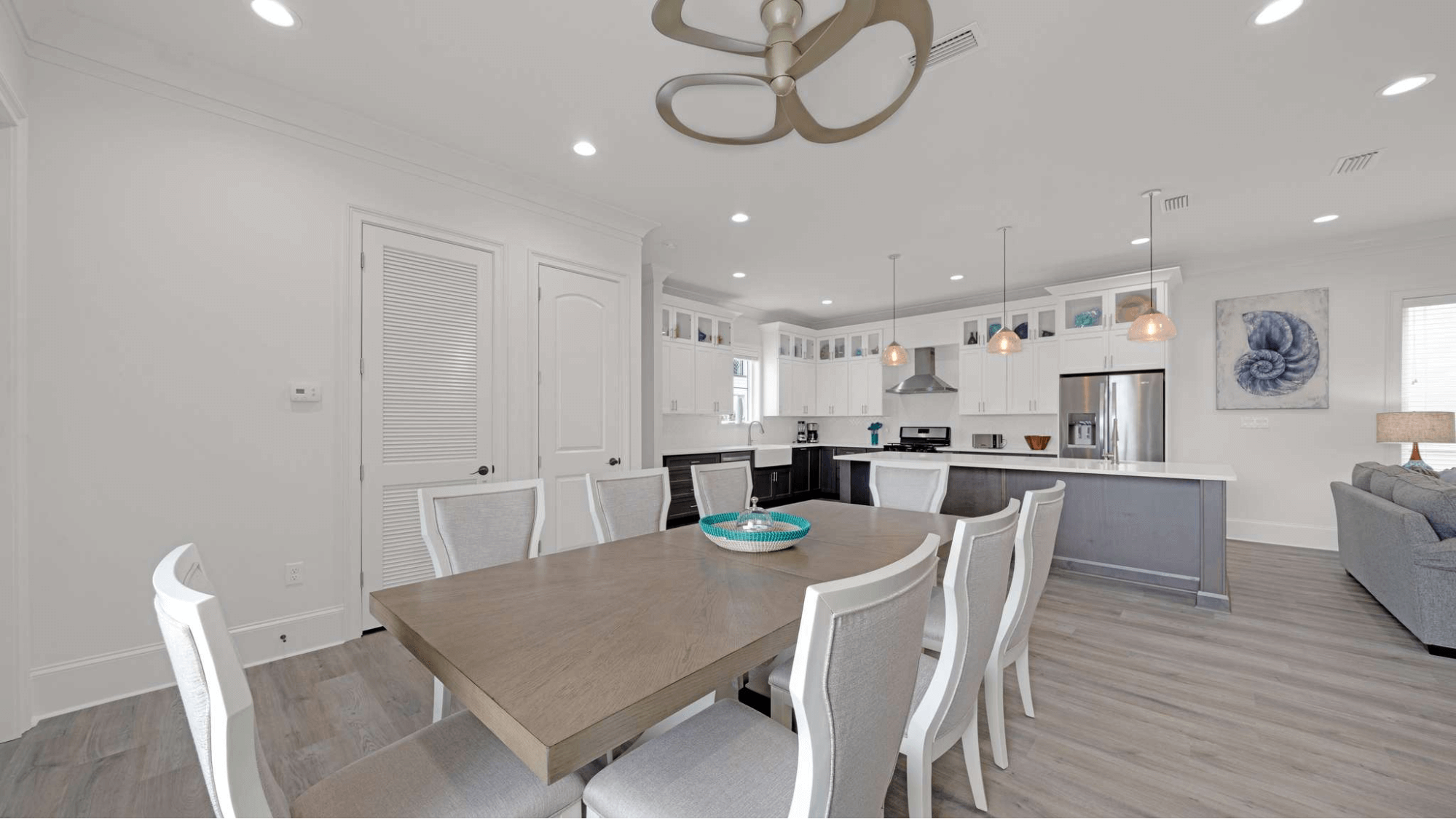 Staying at Azul Atlantica is an absolute dream come true. This beautifully designed and well-equipped home is perfect for those who want to enjoy all that the private and gated community – Dunes of Destin has to offer. The location is excellent, just a short 5-minute walk to the private beach access. You will have a panoramic view of the Gulf of Mexico in different directions on the rooftop terrace. The home itself is spacious and comfortable, each guest will for sure have their private space. The bathrooms are gorgeous, and the two laundry nooks are a real bonus.
This 5850ft2 beautiful vacation home is suitable for a large group of families or friends up to 27 people. It features a custom-built summer kitchen with a KitchenAid grill, large pool and private pool deck, and a relaxing outdoor dining space. This property is conveniently located on the corner for easy parking access. It is the perfect place to enjoy the Florida sunshine and create lasting memories with your loved ones.
3. Skipper's Escape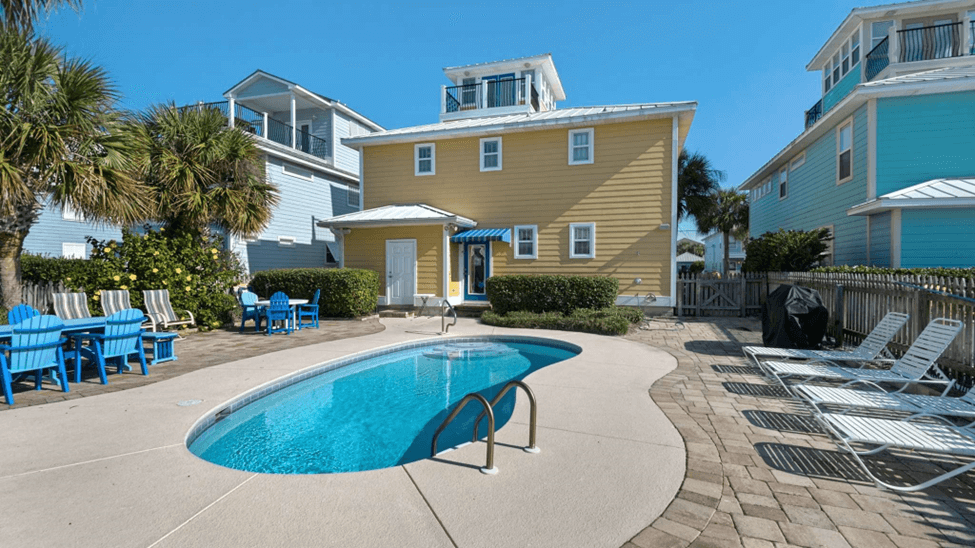 Skipper's Escape offers guests a unique and convenient lodging option with plenty of amenities to enjoy. This vacation home is just a short walk from the beach, and features a large private pool, large courtyard area, cabana, and a carriage house. It's the perfect spot to relax after a long day out. You can take advantage of the full kitchenette to prepare even the most complicated vacation meals.
This 3000ft2 property has 6 bedrooms with 5.5 bathrooms which can accommodate a group of up to 20 guests. The carriage house on the property provides additional sleeping accommodations for up to 10 people, making it a great option for larger groups. This vacation home is also conveniently located close to shops, restaurants, and other attractions.
4. Villa Destiny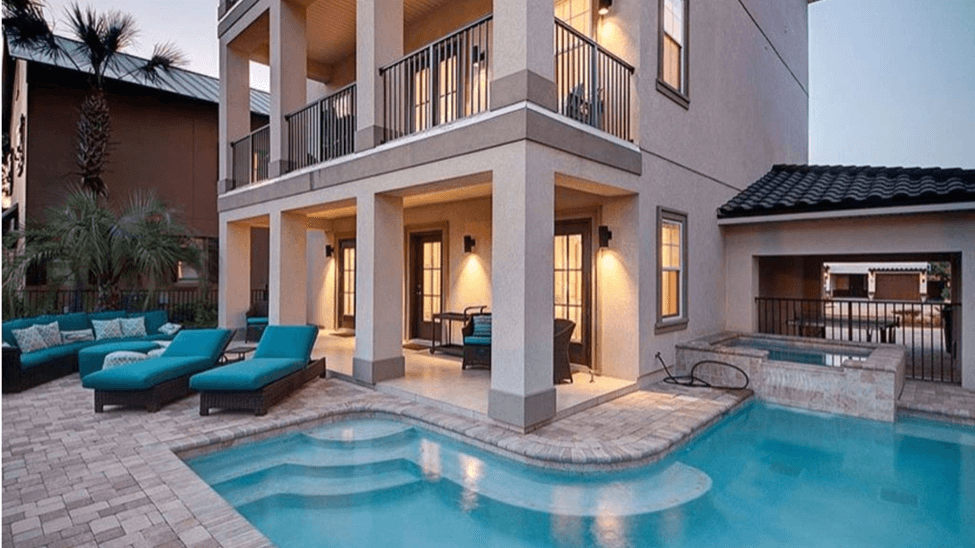 Villa Destiny is a dream place to stay for an unforgettable and relaxing vacation. This luxurious and spacious vacation home is not only pet-friendly, but also features a private pool and spa tub, making it the perfect getaway for families with furry friends.
With 6 bedrooms and 6.5 bathrooms, it can accommodate up to 15 people. The outdoor area is also lovely and welcoming, with a grill for cooking out with family and friends. The location is excellent and is just a short distance from the beautiful beaches of the Gulf of Mexico. Staying at Villa Destiny is an experience you won't soon forget!
5. Family Matters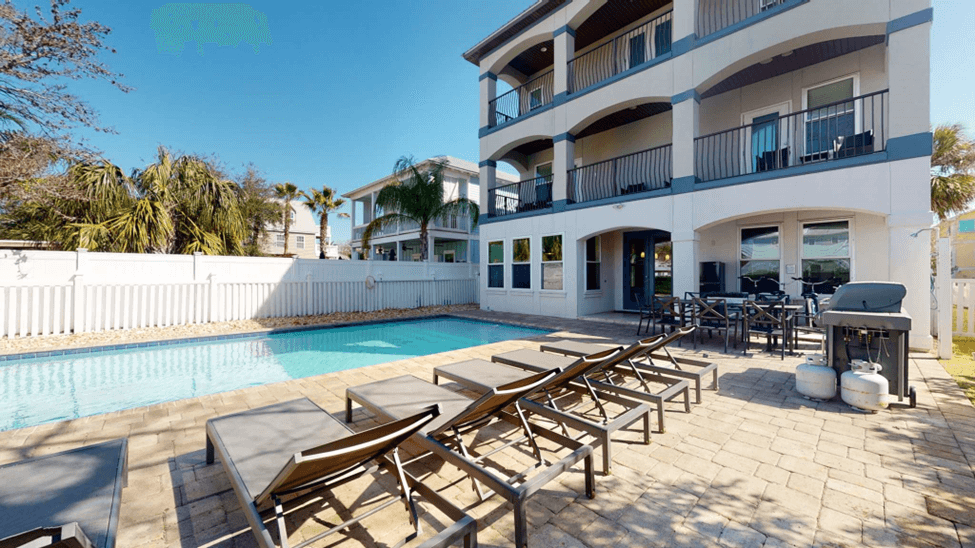 When you stay at Family Matters, you can expect a superb beach vacation. The property is situated in a desirable location and it's only 200 yards from the beach. It's also a few lots away from the Scenic Gulf Drive, so you won't need to be concerned with traffic or noise.
This beautiful 4200ft2 home has 9 bedrooms with 5.5 bathrooms, it can accommodate up to 22 guests. It features a private 36x16ft pool, an outdoor playset, and a fenced-in yard – making it one of the few pet-friendly rentals in the area that ticks all these boxes.
The Crystal Beach neighborhood is Destin's best beach area, and you're only a short distance from the best shopping and dining in town. You'll love spending your days lounging on the beach, swimming in the Gulf of Mexico, and exploring the city.
So there you have it, our top pet-friendly Destin vacation rentals! We hope this list has helped you narrow down your search for the perfect place to stay for your next trip to Destin. Remember, when booking a vacation rental property, always be sure to ask about the pet policy to avoid any surprises.
As a bonus, we have included the top 3 most asked questions from our guests:
Are Destin beaches dog friendly?
While dogs are not allowed on Destin beaches, there are plenty of other activities that owners can enjoy with their pets. Nearby, the Nancy Weidenhamer Dog Park is a great place to let dogs run and play off-leash.
Is Destin dog friendly?
Destin is dog friendly and has several pet-friendly restaurants and cafes in the area. You can enjoy a meal with your furry friend. Nearby, Henderson Beach State Park offers miles of walking trails and is a great spot for an afternoon hike with your dog.
Is there an off-leash dog park in Destin?
Yes, Destin has one off-leash dog park. Nancy Weidenhamer Dog Park is located at 4100 Indian Bayou Trail, Destin. It's about 3 acres and has separate areas for both small and big dogs alike.
Are you ready to plan your Destin trip now? Browse our collection of pet-friendly Destin vacation rentals and start booking today.
We hope to see you and your furry friend soon!