Your Guide to a Perfect Family-Friendly Holiday in Destin
The holidays are a great time to spend with family and friends, and what better place to do that than in Destin, Florida. The Emerald Coast is renowned for its beautiful beaches, crystal-clear waters, and abundant sunshine. And, of course, there's plenty for families to do both on and off the beach. Here are the 9 fun activities to do for a perfect family-friendly holiday in Destin:
Go to the beach
Visiting different beaches in Destin is at the top of the list for many families. Two of the most popular beaches in Destin for families are Miramar Beach and Henderson Beach. Miramar Beach has a wide, flat shoreline that is perfect for building sandcastles or playing games. Henderson Beach is also great for families. It has a small playground and a boardwalk that winds through the dunes. Both beaches have plenty of parking and restrooms, which makes it easy to spend a whole day at the beach with the kids.
Ride a banana boat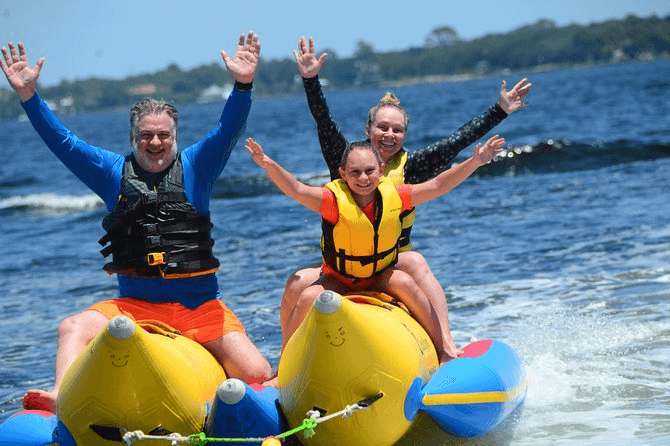 What's more fun than a ride on a banana boat? Families with young children will especially enjoy this activity, as it's the perfect way to bond and make lasting memories. Plus, it's a great way to get some sun and exercise while you're on vacation. If you do the boat ride at Miramar Beach, it will give you the best chance to see some of the marine life, like sea turtles, dolphins, and more!
Visit Gator Beach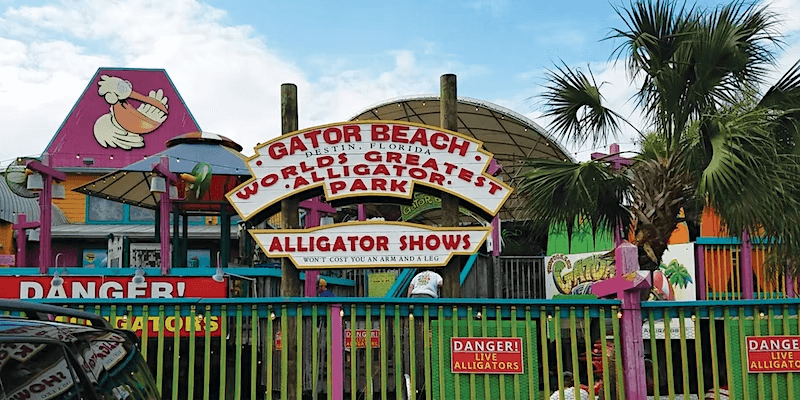 Gator Beach is the perfect place for thrill-seeking families with kids who want to watch, feed, and hold live alligators. As the world's greatest alligator park, it's home to hundreds of alligators of all shapes and sizes.
You can watch the alligators sunning themselves on the beach, or take a closer look by feeding them from a safe distance. For those who want an even closer encounter, Gator Beach offers the opportunity to hold and take photos with a baby alligator with a trained staff member's guidance. If you go there during their show season, you can even watch their alligator shows for free!
Visit The Track Family Recreation Center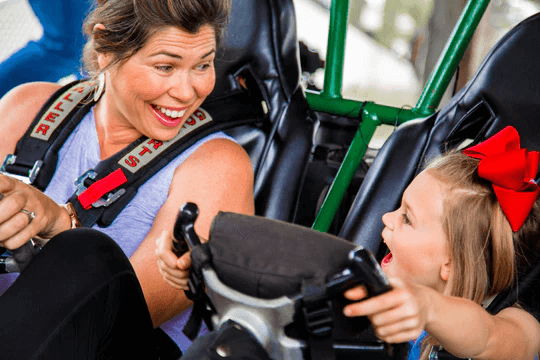 If your family wants to do something other than going to the beach, go to The Track Family Recreation Center! It has some of the most fun things for kids to do, and there's something for every young adventurer.
The center has an arcade and a variety of kids' activities like bungee jumping, mini-golf, bumper boats, and go-karting. There is also a section for toddlers with a mini train, a carousel, and other rides that are safe for them to enjoy.
Watch the Maximum Magic Show
Who doesn't like a good magic show? A live magic show can captivate young minds and hearts, especially one like the Maximum Magic Show that is good for the whole family and where you can take your little ones to see their first magic show.
This unparalleled show has 90 minutes of action-packed illusions, interactive tricks like special effects and mindreading, that are all presented in a funny way. After a long day of sightseeing, go to the Maximum Magic Show for a relaxing evening and be amazed!
Go on the Original Sea Blaster dolphin cruise
One of the best things to do when you're on vacation with kids is to mix fun and learning. The Original Sea Blaster dolphin cruise lets you do just that. You can take their tours to see dolphins riding the Gulf of Mexico waves in a graceful way. These cruises are a paradise for both kids and adults as you get free alcoholic drinks and beverages on board. If you are taking a daytime cruise, the kids can even play water gun fights on the cruise!
Walk the Destin Harbor Boardwalk
The Destin Harbor Boardwalk is one of the most popular tourist spots in Destin. When you are in the area, you can't miss a stroll along this boardwalk! Your little ones will love how live and colorful the boardwalk is. It is a great place to people-watch, and you might even see a dolphin or two swimming by. There are many ice cream shops, restaurants, and charter boats coming and going with the day's catch. The Destin Harbor Boardwalk is also a great spot for a family photo. The views of the harbor and the Gulf of Mexico are breathtaking, and there are plenty of places to sit and relax while you enjoy the view.
Wild Willy's Adventure Zone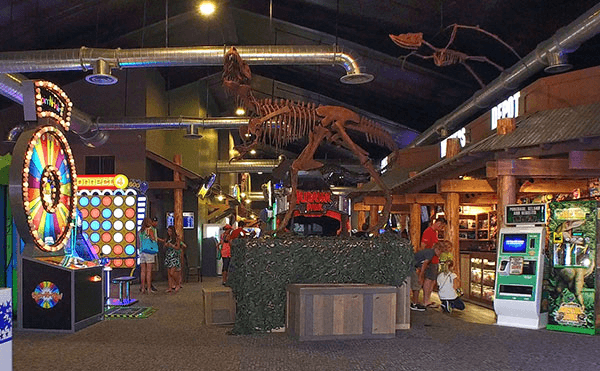 Wild Willy's Adventure Zone is an amusement park with a dinosaur theme. It has a 16,000 sq ft arcade with over 65 games, laser tag, a treetop ropes course, and go-kart race tracks for young drivers. The best thing about this park, though, is the 18-hole mini golf course called "T-Rex Island," which has dinosaurs that move and roar as your little ones play.
Big Kahuna's Water Park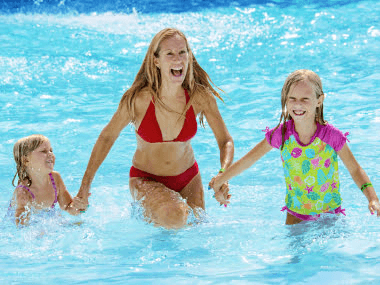 When the kids get tired of the beach, you can take them to Big Kahuna's Water Park for a world of adventure and fun. There are more than 40 things to do here, including raft rides, twisty water slides, a lazy river, surf simulators, and pipeline slides. Even the youngest kids in the family can have fun at the park, which has a special area for them with a pool and slides for toddlers and slightly older kids. As a bonus, your kids can choose to play mini-golf at one of the three super fun 54-hole courses.
That was our list of the top 9 fun activities to do with your kids in Destin. From the water park to the boardwalk, there's something for everyone in the family to enjoy. With so much to see and do, your family is sure to have a memorable family-friendly vacation. Book your Destin vacation rental today and start planning for your trip!
Thanks for reading, and we hope you have a great time in Destin.
FAQs
Is Destin a family-friendly vacation destination?

Yes, Destin is a great vacation destination for families. There are plenty of activities and attractions that will keep everyone in the family entertained.
Which beaches are family-friendly in Destin? 

Some of the most popular family-friendly beaches in Destin include Miramar Beach and Henderson Beach. Both of these beaches offer plenty of activities and amenities that kids will enjoy.
What are some of the best things to do in Destin with kids?

There are lots of great things to do in Destin with kids. Some of the most popular activities include visiting the Destin Harbor, going on a dolphin cruise, visiting a water park, and spending a day at one of the many family-friendly beaches.