Top 10 Reasons To Visit Destin this Summer 2023
Grab your sunglasses, pack the sunscreen and prepare to tick a box off your bucket list in the paradise that is Destin, Florida. Get ready to plunge into turquoise waters, watch radiant sunsets on sandy shores, and relax in your very own luxury vacation home right by the ocean. If this sounds like exactly what you're yearning for, read on as we explore the top 10 reasons to visit Destin this summer 2023.
This hidden gem in Florida's Emerald Coast offers something for everyone, whether you're a beach bum in pursuit of the perfect tan, an adventurer longing to explore the ocean depths, or a foodie craving the fresh catch of the day, Destin has it all. So sit back, relax, and join us on this virtual exploration of Summer in Destin, a coastal paradise you'll no doubt be eager to visit this vacation season.
10 Reasons Why You Should Visit Destin This Summer 2023
Destin offers a unique blend of stunning natural beauty, thrilling adventures, world-class cuisine, and a laid-back Summer vibe that's impossible to resist. The reasons to visit this coastal paradise are almost endless, but we've narrowed it down to the most enticing 10 for Summer 2023.
Photo Credit: Photo by Sophia Simoes on Unsplash
1. Incredible Beaches
Destin has miles of pristine shoreline, boosting some of America's most beautiful beaches. Here you'll find mesmerizing emerald green waters, so clear and vibrant you'll almost want to take a jar of it home with you. Perfect for snorkeling, scuba diving, or just splashing around, these famous green waters are known worldwide for their astonishing color which of course gave Florida its nickname the 'Emerald Coast.
Lets not forget the iconic white sand beaches that stretch out far and wide under the warm Florida sun. Sand as soft and pure as powdered sugar is not just a pleasure to stroll on, it's a sight to behold. So if you're seeking a beach day straight from heaven, Destin is the place for you.
2. Deep-Sea Fishing
Known as the "World's Luckiest Fishing Village", Destin is a haven for fishing enthusiasts. Whether you're a seasoned angler or a beginner, deep-sea fishing adventures here are second to none. There are several deep-sea fishing companies around Destin offering day charters for groups seeking an unforgettable underwater adventure.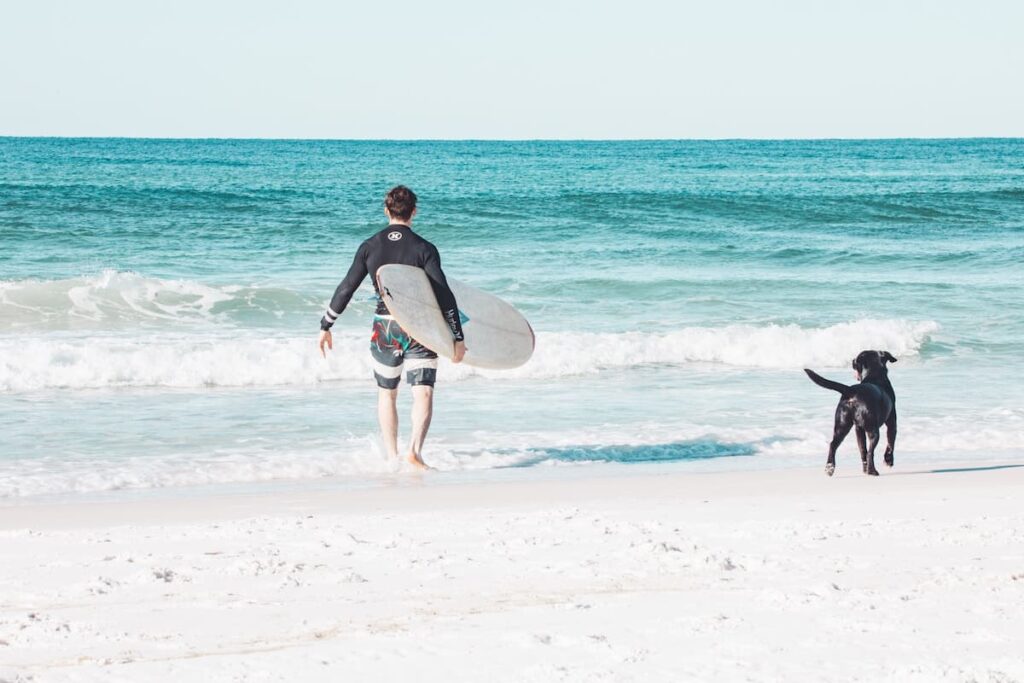 Photo Credit: Photo by Taylor Deas-Melesh on Unsplash
3. Water Sports Galore
If sunbathing on the beach nose deep in a good book isn't your cup of tea, don't fret! Destin has a wide range of exciting, heart-racing watersports ready to get your blood pumping. From paddleboarding and jet-skiing to parasailing and kite surfing, Destin offers a plethora of water sports activities for adrenaline junkies and casual holiday-goers alike.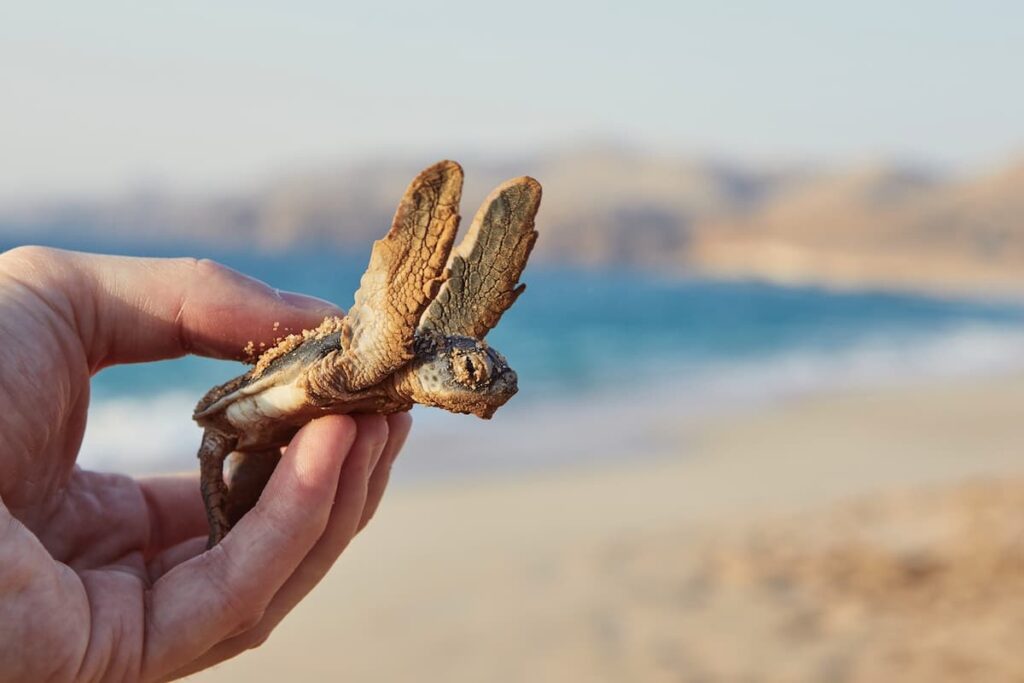 4. Amazing Wildlife
Encounter some amazing wildlife here in Destin, from playful dolphins, majestic sea turtles, and a myriad of vibrant fish to a wide range of avain species. Climb aboard a dolphin-watching cruise to see these playful creatures in their natural habitat. Some boats even have glass bottoms to give you a unique perspective of the marine life below.
Summer is the nesting season for sea turtles. Participate in guided sea turtle walks at dawn or dusk to learn more about these magnificent creatures. Remember, sea turtles are protected, so it's essential to respect their nesting sites and not disturb them.
Destin is also a paradise for bird watching. Various species of migratory and local birds inhabit the area, and the summer months are a fantastic time to spot herons, pelicans, and even the occasional bald eagle.
Note: Remember, whenever engaging with wildlife, it's crucial to respect the animals' space and observe without disturbing them. The beauty of Destin's wildlife is best preserved when we admire from a distance and leave no trace.
5. Exceptional Shopping
Destin Commons is a popular choice among locals and visitors. This outdoor shopping center has over 90 stores and restaurants, with a broad mix of retailers like Bass Pro Shops, H&M and Sephora. If you're seeking some luxury brands, check out Silver Sands Premium Outlets. This is the largest designer outlet center in the United States, offering exceptional deals on designer goods. Stores include Michael Kors, Coach, Polo Ralph Lauren and many more.
Fancy some shopping with great views? Head to HarborWalk Village. Overlooking the beautiful Destin Harbor, this bustling area has an array of shops selling everything from beachwear and jewelry to art and local souvenirs. It's the perfect spot to shop, dine, and enjoy the live entertainment and events.
Grand Boulevard is another great shopping option, and less than a 30 minutes drive from Destin in Sandestin. This upscale outdoor shopping center features premium brands like Anthropologie, Vineyard Vines, and Tommy Bahama, to name a few.
6. Great Dining Options
Dining in Destin, Florida is a treat for the palate. Given its coastal location, you'll find a wealth of seafood options, but the town also offers a variety of other cuisines. With a rich tradition in fishing, Destin offers mouthwatering seafood right off the boat. Fresh catches of the day transform into culinary masterpieces at local restaurants.
For some incredible seafood, head to the shores of Destin Harbor. Some notable restaurants with great seafood are Harbour Docks, Dewey Destin's Seafood Restaurant and Boshamps. Boshamps serves up a mix of Southern seafood classics in a relaxed atmosphere. Don't miss their famous oysters.
Destin's culinary scene doesn't just end with seafood, for a caribbean twist check out Pomoano Joe's, for tasty italian cuisine there is Mimmo's Ristorante Italiano and for something more casual mosey on down to McGuire's Irish Pub or The Donut Hole Bakery & Cafe.
7. Luxurious Accommodation
The right accommodation can make or break your vacation experience. From cosy one bedroom bungalows on the beach to luxurious homes with private pools, Destin has a luxury vacation rental to suit all your needs and desires. Wake up to breathtaking ocean views and unwind to the soothing sounds of waves on your own private balcony, glass of rosé in hand.
Browse our list of amazing vacation rentals in Destin for your 2023 summer getaway. All our homes are stylish, in amazing locations, and have all the amenities you need to call a vacation rental your home for your stay.
8. Historical & Natural Wonders
Explore the history of Destin at the local fishing museum or take a hike in the nearby state parks. And don't forget the bioluminescent waves – a rare and beautiful sight that's a must-see for summer visitors.
A short drive from Destin, in Fort Walton Beach, you'll find the Indian Temple Mound Museum. It showcases the region's Native American heritage, and features artifacts dating back 10,000 years. Interested in the nation's military history? Head to Elgin Air Force Base – this museum is home to a collection of military memorabilia, aircrafts, and weaponry from World War I to the present.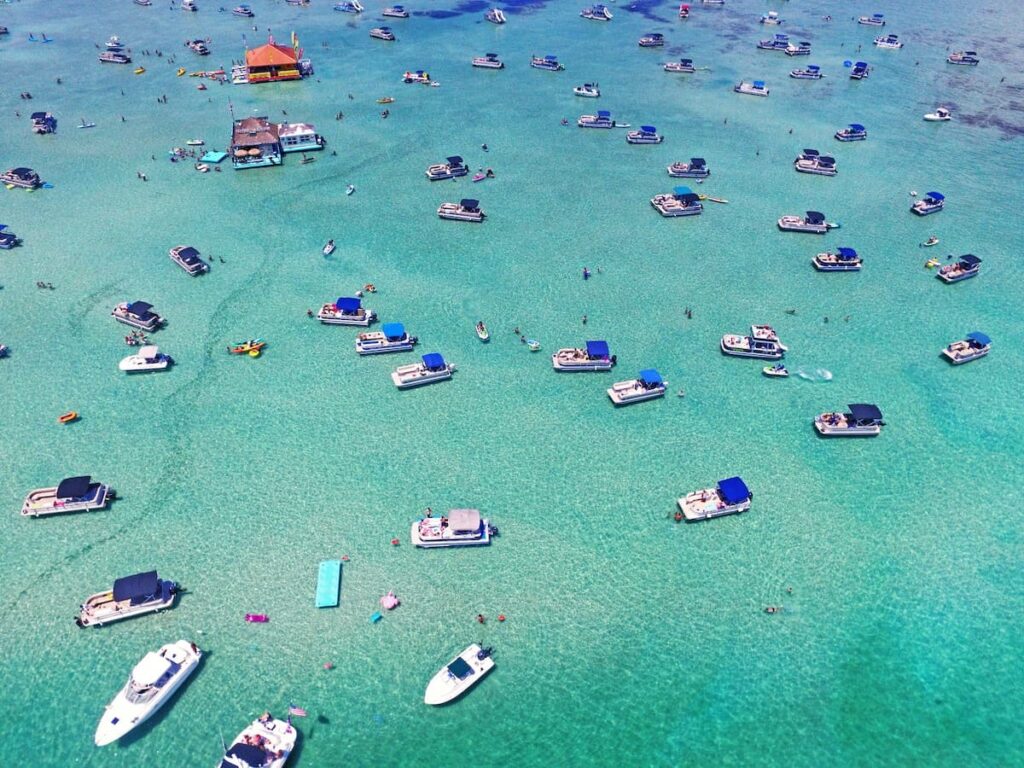 9. Perfect Summer Weather
You can expect warm, tropical sunny weather on your summer trip to Destin. The average high temperatures in the summer range from the mid to upper 80s Fahrenheit (around 30°C-32°C) during the day, with temperatures dropping into the 70s Fahrenheit (around 21°C-26°C) at night. Destin, like much of Florida, can be quite humid in the summer, which can make the temperature feel a bit hotter than it actually is.
While Destin does experience rain throughout the year, the summer months are the wettest. The city typically sees afternoon thunderstorms that can be heavy but usually don't last long. June is often the rainiest month. Despite the rain, Destin is known for its abundant sunshine, and summer is no exception. Expect plenty of bright, sunny days perfect for long days on the beach and fun water activities.
10. Summer 2023 Events
Destin has an array of exciting events taking place throughout the summer months. For the foodies there is the Star-Spangled Food Truck Festival & Firework Show on July 3rd. The Fat Tuesday Celebrations Summer 2023 is a fun-packed carnival perfect for all ages which takes place every Tuesday at HarbourWalk Village.
The Emerald Coast Duck Regatta is perfect for families with kids, where children can participate in scavenger hunts, face painting, carousel rides and even meet exotic animals. Destin's summer event list is endless so there is bound to be something suited to you during your vacation.
Spend Summer 2023 in Destin
So there you have it, our sun-kissed guide to your Summer 2023 adventure in Destin, Florida. With its dazzling emerald waters, stunning marine life, unbeatable seafood, and historic charm, it's more than just a beach town—it's a summer dream wrapped in white sand and sunsets. Whether you're seeking thrills on the water, exclusive deals in the outlets, or simply the perfect spot to kick back and relax with a good book, Destin is your destination.
So pack your suitcase, don't forget the sunscreen, and get ready to make some unforgettable memories in this coastal paradise. We'll see you under the palm trees!
Some Commonly Asked Questions About Visiting Destin in Summer
Are there any kid-friendly activities in Destin?
Absolutely! Destin offers several family-friendly attractions, including the Gulfarium Marine Adventure Park, The Track – a family fun park with go-karts, mini-golf, and bumper cars, and Big Kahuna's Water & Adventure Park. The city's many beaches are also great for kids.
Is Destin crowded during the summer?
Summer is a popular time to visit Destin, so yes, there can be crowds, especially during major holidays. However, there are plenty of spots to explore, so you can always find somewhere less crowded to relax.
Is Destin a good place for a summer vacation?
With its beautiful beaches, abundant outdoor activities, fantastic dining, and welcoming Southern hospitality, Destin is considered an excellent summer vacation spot for individuals, couples, and families.