A Wedding in Destin and the Perfect Venue to Say "I Do"
Florida's Emerald Coast is an increasingly popular destination for weddings and honeymoons, especially in Destin. The area offers beautiful beaches, turquoise blue waters, lush vegetation, and impeccable hospitality services and gorgeous venues.
Thanks to year-round beautiful weather, weddings in Destin can be held any time of the year, especially in the months of November through February. Shoulder season weddings can be easier on the budget while still offering the sun and warmth of a summer wedding you've been dreaming about.
In this post, we've compiled some of the best options for wedding venues near Destin and the Emerald Coast. Whether you're looking for a secluded beach ceremony, a luxurious stately reception or something in between, this guide should help you in your planning!
Your big day in Destin, Florida
Destin is known for its gorgeous white sand and clear blue water, making it a popular choice for those that want to tick all the checkboxes. Couples looking to celebrate their nuptials in one of Florida's most dreamy spots will find plenty of options to choose from. From intimate gatherings to large parties, there are many venues to make the festivities your way.
The town itself is home to several unique wedding venues, including the historic seaside estates, luxurious golf clubs and the beautifully rustic Henderson Beach State Park.
A romantic wedding on the beach
A beach wedding in Destin, Florida is a real-life fairytale, and for good reason, Florida's beaches are some of the most breathtaking in the world. The Destin area specifically is known for its white sand beaches and crystal clear blue waters. It's the perfect backdrop to exchange your vows and celebrate your love.
Crystal Beach is a beautiful Florida wedding venue situated on the Gulf of Mexico. The venue offers stunning views of the water, an on-site catering company and event planning services. They have a variety of packages to choose from or you can customize your own package to suit you. With seasoned professionals on hand to help you with all your wedding queries, you'll be stress-free planning your big day.
The company provides a cutting-edge planning process that has exceeded the expectations of over 1,500 brides, many who have said their "I do's" on the sugary white beaches of Destin beneath the shade of their distinctive wedding designs.
The Beach House with its 'Sky Room' is a picturesque wedding venue in Miramar Beach, Florida . The venue offers a variety of event spaces to accommodate your wedding, including an outdoor terrace with views of the Gulf of Mexico. They have an on-site catering company and offer a variety of packages to choose from.
Unique wedding venues
Why should you celebrate an extraordinary day at an ordinary venue? If you want your wedding day to be truly unique, consider one of Florida's many quirky venues, such as the Gulfarium Marine Adventure Park, a great option for couples who want an underwater-themed wedding.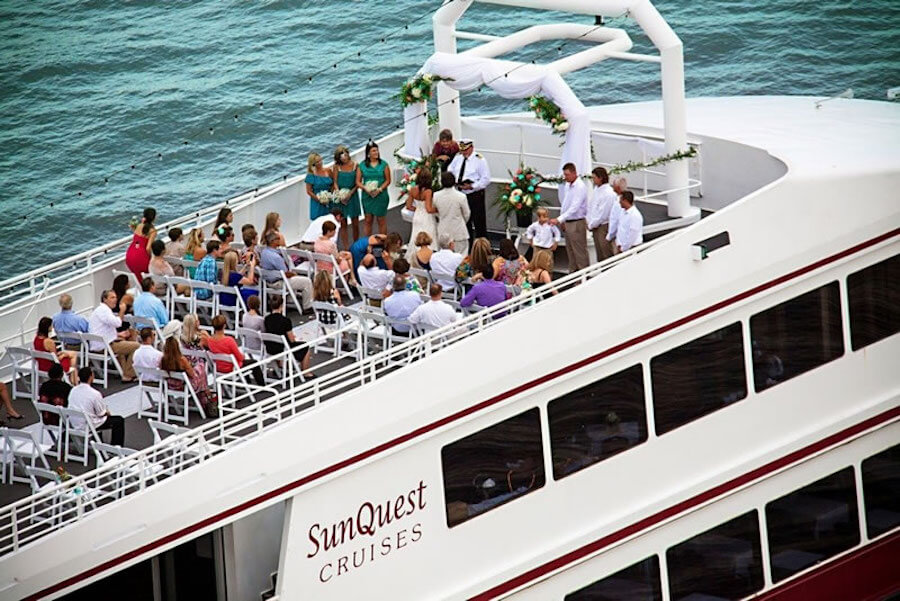 Take your wedding up a notch and set sail on the open waters for your big day. With SunQuest Cruises, you can say your vows right on the ocean with all your friends and family. Experience amazing food and music aboard the Solaris yacht, an unforgettable way to tie the knot. With 3 decks of indoor and outdoor space, the Solaris yacht hosts up to 150 guests. Say 'I Do' on the open-air sky deck and party the night away on a ship you helped decorate with customizable packages and wedding planners available to help you plan.
A luxury and private wedding reception
Why not upgrade your dream wedding in Destin by booking a luxury rental home. There are a lot of advantages to celebrating your wedding at a vacation rental. For one, you'll have the entire property to yourselves. This means you have ultimate privacy and you can invite as many guests as you'd like. There will be plenty of room for everyone to stay on-site and celebrate the occasion. Additionally, you can customize the property to match your wedding theme and style. And last but not least, you'll have luxury amenities like a pool and hot tub to enjoy.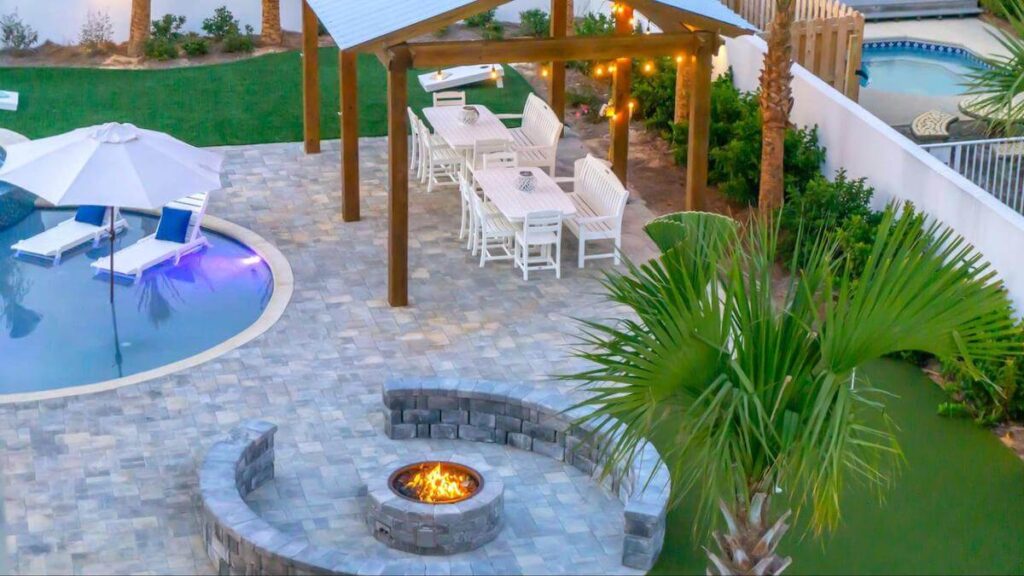 The Gray Whale is one of the largest resort-style swimming pools in Northwest Florida, equipped with a massive waterfall spa, tanning shelf, and different water features. The stunning LED lights illuminate the resort pool at night, creating a very unforgettable vista. With its sleek coastal style, The Gray Whale is a beach mansion that comfortably sleeps 32 people.
The large, enclosed pool area includes a covered outside porch with a bar, outdoor kitchen, and a large-screen television with pool views, the perfect party set up! The weather is always on your side in Destin, meaning you'll have no excuse but to hone your putting skills with the five-hole putting green (equipped with putters and golf balls)right outside, The fire pit with built-in seating is ideal for unwinding in the evening with a glass of wine.
It's never been easier to make the right choice
Choosing a wedding venue in Destin is a big decision. However, with so many beautiful venues to choose from, you're sure to find the perfect spot to exchange your vows and celebrate your love. Whether you're looking for a romantic beach ceremony or a luxurious private reception, Florida has something to suit everyone.
With amazing rental homes of all sizes dotted around Destin and Miramar beach, you and your guests will have a comfortable place to stay just a stone throw away from the wedding venue. A fun place for the bridesmaids to get glam, a luxury villa for a wedding party or just a comfortable home for the bride to get her important beauty sleep, Beach Reunion rentals have a home for all wedding needs.
If you're looking for a truly private and memorable wedding experience, consider one of these wedding homes in Destin and Miramar Beach, Florida. With plenty of space for all your guests, on-site amenities, and stunning views, these properties will make your wedding an event to remember. From breathtaking ocean-view villas to cozy, rustic homes, Beach Reunion has a rental home to suit you.
So, what are you waiting for? Start planning your dream wedding in Destin today!
FAQs about having a wedding in Destin
What do I need to get married in Destin?
To get married in Destin, the bride and groom must be over 18 and obtain a marriage license from the County Clerk of Courts office where you will present photo identification and your social security numbers. To get married on the beach in Destin, Florida you will need a beach permit, luckily this is usually included in most wedding packages with the venue you choose.
What is the most popular month to have a wedding in Destin?
June is a popular month, but it is the peak season which means it is the most expensive. However, May is usually a better month due to the weather heating up as well as lower rates.
What is the average cost of a wedding in Florida?
The average cost of a wedding in Florida is $27,000. However, this number can vary greatly depending on the size and location of the wedding.