Just What makes Destin The World's Luckiest Fishing Village?
Destin, Florida, a gem on the Emerald Coast, has rightly earned its moniker, the "World's Luckiest Fishing Village". Its crystalline waters and abundant marine life have long beckoned fishing enthusiasts, making it an unparalleled angler's paradise. Setting your sails or casting your line here promises a delightful chance at some of the ocean's most treasured fish.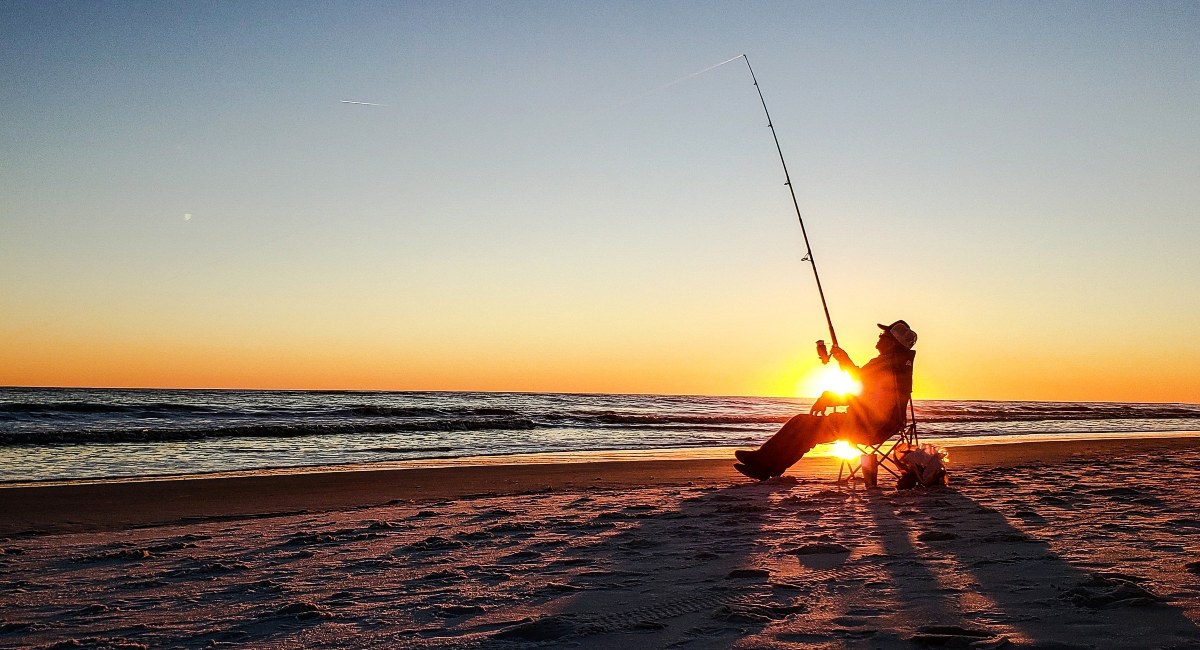 Destin, a sparkling gem on Florida's Emerald Coast, has earned its moniker, as the "World's Luckiest Fishing Village". Its crystalline waters and abundant marine life have long beckoned fishing enthusiasts, making it an unparalleled angler's paradise. Setting your sails, or casting your lines towards Destin promises great odds at some of the ocean's most treasured catches.
Why is Destin the "World's Luckiest Fishing Village"?
Fishing is an integral part of Destin's heritage and culture. Long before the influx of tourists and towering beachfront condos, Destin was a quaint fishing village where early settlers relied on the sea's bounty. The "World's Luckiest Fishing Village" title wasn't just handed over; it was earned through decades of consistently impressive catches. Let's explore the deeper reasons for Destin's nickname:
Geography and Underwater Topography: The city's proximity to the 100-fathom curve—where the continental shelf's depths plunge deeper than anywhere else in the Gulf of Mexico—makes it an unparalleled destination for deep-sea fishing. This unique geographical advantage means that deep-water species are closer to shore in Destin than in many other places, shortening the trip to fishing grounds.
Diverse Fish Species: The waters off Destin are teeming with a diverse range of fish, including Red Snapper, Grouper, Amberjack, Mackerel, Mahi-Mahi, Marlin, and Sailfish. This diversity provides for a broad range of fishing experiences and challenges.
Largest Charter Fishing Fleet: Destin boasts Florida's largest charter fishing fleet, with over 100 experienced captains ready to guide novice and experienced anglers. Whether you're looking for a private charter or a shared experience, plenty of options exist.
Fishing Tournaments: Destin hosts several fishing tournaments throughout the year, attracting anglers from all over the country. The Destin Fishing Rodeo, held every October since 1948, is one of the most prominent. This month-long event sees thousands of anglers competing for various prizes across different categories.
Fishing Heritage: The history of Destin is deeply rooted in fishing. This heritage is still celebrated today in the local community and can be explored at places like the Destin History & Fishing Museum.
Accessible to All: Whether you're an experienced angler looking for a trophy fish or a family wanting to introduce kids to the joys of fishing, Destin offers experiences tailored to all levels. There are also plenty of bay fishing or surf fishing options for those who prefer to stay closer to shore.
Local Seafood Markets and Restaurants: After a successful fishing trip, there's nothing better than savoring the day's catch. Destin's seafood markets can prepare your catch, and many local restaurants offer a "cook your catch" service.
Understanding Destin's Waters: Expert Insights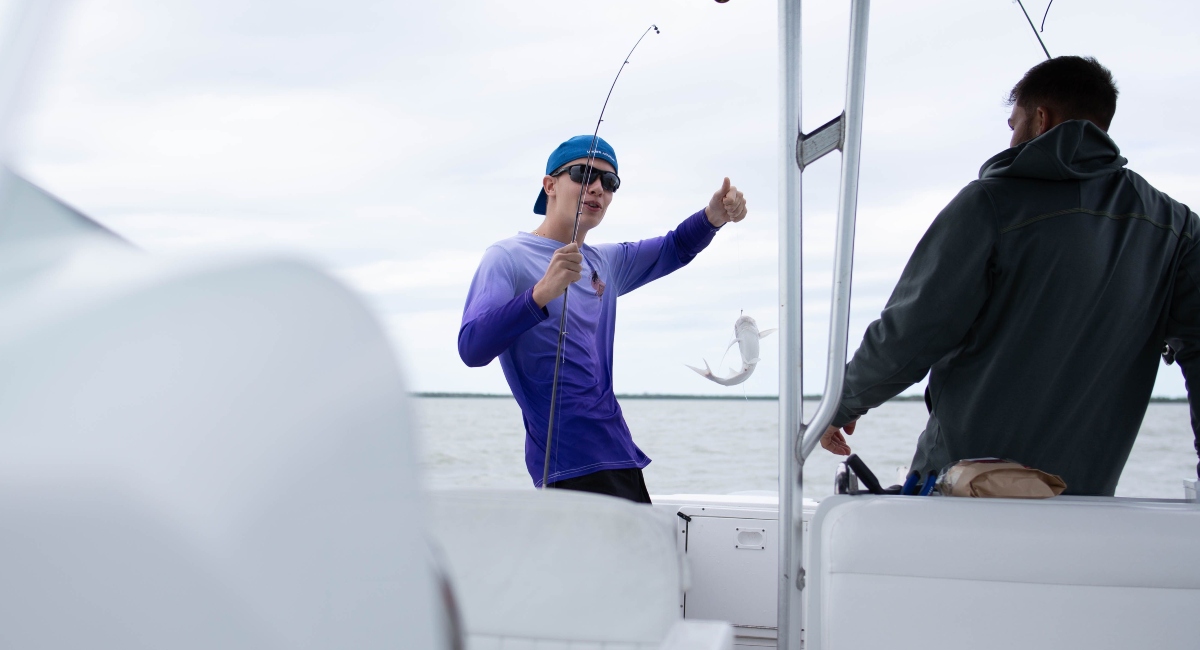 Fishing in Destin is shaped by many factors, from the time of year to weather and water conditions. Mother Nature is the ultimate decision-maker. However, over decades, seasoned anglers and local fishing charters in Destin have identified trends that can optimize your catch.
Prime Fishing Spots in Destin: Where to Cast Your Line
From the bay's calm waters to the Gulf's vast expanse, Destin offers varied fishing spots. While the East Pass promises Cobia and Tarpon, deeper structures like the Timber Holes are Red Snapper hotspots. And for those venturing further, deep-sea fishing in Destin, FL, promises encounters with formidable opponents like Marlin and Sailfish. Knowing the best fishing spots in Destin can mean the difference between a good day and a legendary one.
While the entire region promises a rich haul, some spots have earned a reputation that resonates far and wide within the angler community:
Destin Harbor: Not only is it the heart of Destin's vibrant marine life, but the harbor is also a hub for various aquatic activities. Anglers, in particular, are drawn to these waters for the challenge of hooking the formidable Bluefin Tuna, one of the region's prized catches. However, beyond the intense fishing bouts, it's a space where one can also marvel at playful dolphins gliding alongside boats, embodying the very essence of the marine wonder that Destin is.
East Pass: If deep-sea fishing in Destin, FL is on your agenda, East Pass should be your go-to destination. Rich in marine biodiversity, these waters promise fruitful yields, especially for those willing to venture further and delve deeper. From grouper to snapper, the variety is as vast as the waters.
Choctawhatchee Bay: Away from the hustle and bustle, Choctawhatchee Bay offers a tranquil fishing experience. Its calm waters house a mix of freshwater and saltwater fish, providing anglers with a unique opportunity to reel in a varied catch, including flounder, speckled trout, and black drum.
Grass Flats: A haven for inshore fishing, the Grass Flats of Destin are teeming with species like the formidable Redfish and the elusive Speckled Trout. The shallowness of these areas also provides an excellent visual experience as you spot, stalk, and hook your catch.
Types of Fishing in Destin
Deep-Sea Fishing: An adrenaline-pumping adventure awaits as you board one of the many Destin fishing charters. Journey into the vast Gulf of Mexico and pit yourself against giants like Swordfish, Mahi-Mahi, and Marlin. The deeper waters promise a challenge but also an unmatched reward.
Bay Fishing: The perfect setting for both families and novice anglers. Destin's bays offer calm waters, reducing the likelihood of seasickness, and host many species, including Redfish, Speckled Trout, and Spanish Mackerel.
Pier Fishing: A laid-back fishing experience, Destin's piers are perfect for those looking to relax and cast a line without venturing too far. They provide an ideal vantage point to fish for species like Pompano, Whiting, and sometimes, even the occasional King Mackerel.
Fly Fishing: The expansive grass flats and shallow bays around Destin are dream destinations for fly fishing enthusiasts. Armed with a fly rod and a carefully chosen fly, anglers can sight fish for species like the Silver King (Tarpon) and the agile Bonefish.
Spearfishing: For those looking for a more immersive experience, the wrecks and reefs off Destin's coast are ripe hunting grounds. Spearfishing enthusiasts can free-dive or scuba dive to target species like the powerful Greater Amberjack, Grouper, and even the stealthy Lionfish.
Seasonal Sensations: Aligning With Nature's Calendar
In Destin, every season narrates a unique fishing tale. Summers are resplendent with mahi-mahi and Wahoo. Fall witnesses Mackerel migration, and although cool winters are rich with a significant population of Amberjack. Spring sees Cobia making their presence felt. Timing your Destin, Florida fishing trip with these seasonal delights amplifies the experience.
Popular Catches in Destin
Red Snapper: One of the jewels of Destin's deep sea treasures, the Red Snapper, thrives in the Gulf's warm waters. Notably, the largest Red Snapper in Florida's history, weighing a whopping 46 pounds, was caught right here. They are in season primarily during summer and are among the most regulated fish due to their popularity.
Triggerfish: With its unique olive-gray hue and sandpaper-like skin, the Gray Triggerfish is another delicacy you might reel in. Especially relished for its non-fishy flavor, it is prominently featured in Destin's seafood restaurants.
Grouper: Grouper, a global delicacy, has three prominent varieties in these waters: gray, red, and black. Notably, a world-record 80-pound gray grouper was once caught in Destin, showcasing the area's fishing prowess.
Mahi-Mahi: While Mahi-Mahi is often mistaken for a dolphin due to its name, "dolphinfish," this vibrant fish, with its humped head, is a culinary delight.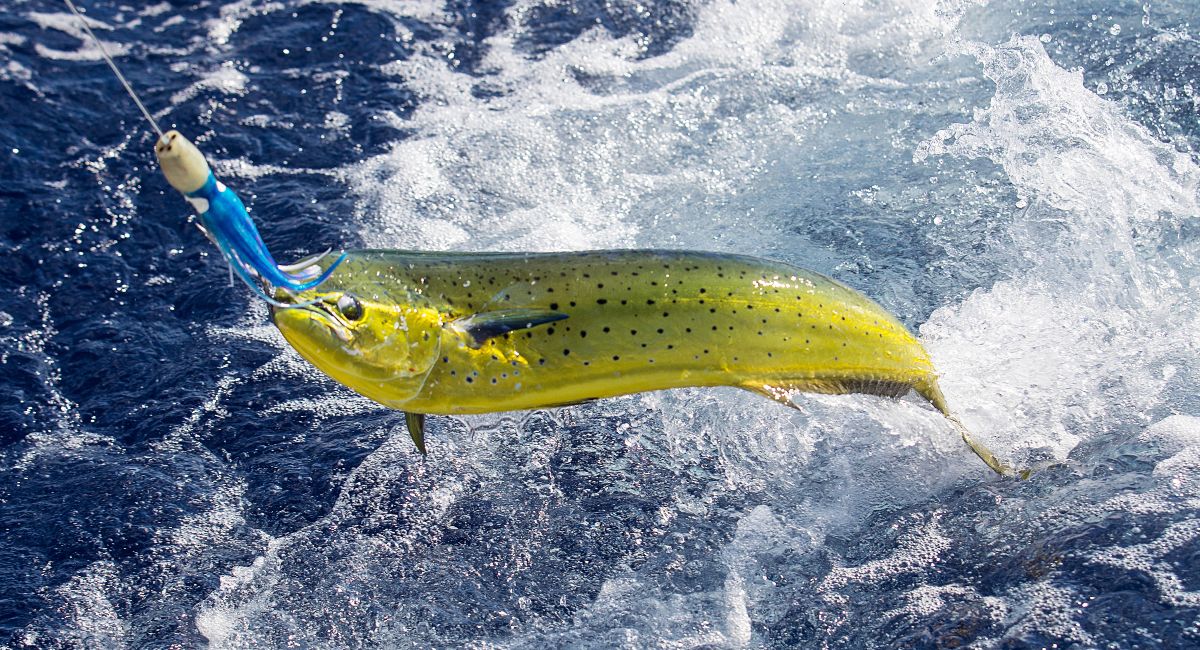 King Mackerel: Recognized by its iridescent silver color, this fish is primarily found in Destin during spring and summer.
Vermillion Snapper: Often compared to Red Snapper due to its deep red hue, Vermillion or Mingo Snapper is abundant in the Gulf, promising a delightful taste.
Cobia: Occasionally caught in Destin, the Cobia, with its shark-like appearance, can be a thrilling catch. Cobia tournaments in spring showcase its popularity among anglers.
Swordfish: The true trophy of the Gulf; Swordfish are elusive but immensely rewarding, typically found in the deeper recesses of the Gulf.
Other notable mentions include the Greater Amberjack, popular in spearfishing, the state-record-setting Bluefin Tuna, the swift Sailfish, the shimmering Wahoo, the robust Tarpon, and the flavorful Gray Triggerfish.
Conservation and Regulations: It's imperative to mention that the fish seasons and limits are designed meticulously to maintain the ecological balance. Ensure to check the current regulations before your trip. Together, we can ensure that sustainable fisheries in the Gulf of Mexico can thrive so that more tourists and residents can enjoy access to this bounty year round!
Fishing License Requirements in Destin, Florida
While you need a Florida fishing license between ages 16 and 64, those not keen on the bureaucratic aspect can easily embark on a journey with one of Destin's professional charter boats, ensuring a hassle-free and memorable experience.
Here is some more information about fishing license requirements in Destin:
1. Saltwater Fishing License: Mandatory for anglers aiming for species in saltwater areas of Destin. Residents can get an annual license, while non-residents have options ranging from a few days to a year.
2. Freshwater Fishing License: Required for those targeting freshwater species in lakes and rivers around Destin.
3. Shoreline License: Florida residents can fish from shore for free but must obtain this no-cost, annual license.
4. Exemptions: Senior residents (65+), children under 16, and active-duty military members are typically exempted but must provide valid proof.
5. Charter Fishing: Most Destin fishing charters include the license in their package, so individual licenses are optional when fishing aboard licensed charter boats.
For a fruitful fishing excursion in Destin, knowledge is your best bait. Dive deep into the region's fishing culture, respect the local regulations, and you're poised for an unforgettable adventure.
Cast Your Vacation Line Towards Destin
Destin's intricate blend of nature, history, and modern amenities stands as a beacon for every angler. Whether you're a seasoned pro or a budding fishing enthusiast, the promise of adventure and the thrill of the catch in the World's Luckiest Fishing Village is unparalleled.
After a rewarding fishing experience, there's nothing like retreating to one of our many comfortable Destin vacation rentals to recharge and prepare for the next day's adventure!