Exploring Destin's Wildlife: Where to Spot Dolphins and Other Marine Life
Ahoy, marine life enthusiasts! Along Florida's stunning Emerald Coast there Destin, a haven for shimmering waters, pristine beaches and an array of captivating marine life. From the playful leaps of dolphins to the graceful movements of sea turtles, Destin's coastal waters promise unforgettable encounters for nature enthusiasts.
While the area boasts several attractions, nothing quite compares to the thrill of spotting these creatures in their natural habitat. For those staying in Destin vacation rentals, the opportunity to immerse oneself in this maritime wonderland is just a stone's throw away. Dive in as we guide you on where and how to witness the best of Destin's underwater world.
Wildlife Spotting in Destin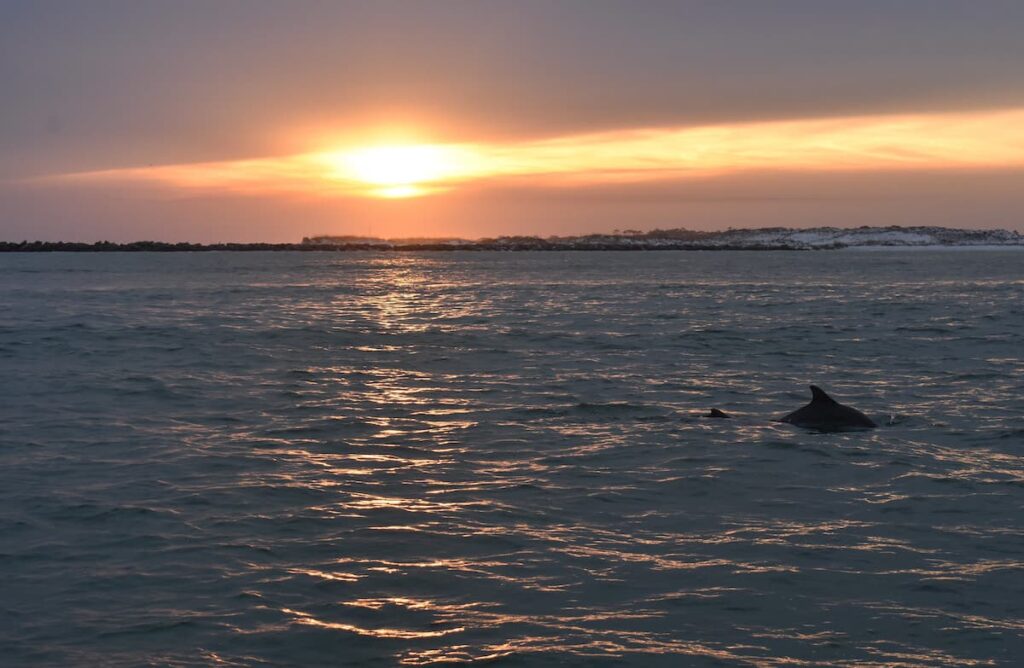 Destin is a treasure trove for those keen on observing marine life. From aquariums and science centres to beaches and parks, Destin is teaming with opportunities to see some incredible marine life. Here are some of our top recommended spots;
Photo Credit: 'Sunset boat ride in Destin, Florida' by Florida Fishand Wildlife via CC BY-NC-ND 2.0
East Pass Jetty
The East Pass Jetty in Destin stands as a testament to the rich marine biodiversity of Florida's Emerald Coast. This man-made marvel, specifically constructed to maintain the deep-water channel connecting the Gulf of Mexico to Choctawhatchee Bay, has inadvertently become a sanctuary for many marine creatures. The merging of waters from these two bodies creates an ideal environment, drawing both wildlife enthusiasts and avid anglers in search of a fruitful catch.
Dolphins are frequently spotted around the jetties, particularly during the tranquil moments of sunrise and sunset, feeding on abundant fish schools. The rocky foundations of the jetty, teeming with fish such as redfish, snapper, and flounder, are a magnet for anglers. Rays, both sting and manta, glide effortlessly around, while sharks, especially the Atlantic sharpnose and bonnethead, infuse a sense of thrill.
Nighttime reveals intriguing cephalopods like octopuses and squids, with crustaceans such as crabs and lobsters peeking out during the day. Above these aquatic wonders, seabirds like pelicans, terns, and gulls dominate the skyline, enhancing the area's natural beauty. And for those keen on a deeper immersion, snorkeling or diving amidst this diverse marine life becomes a memory to cherish. The East Pass Jetty is undeniably a portal to an enchanting underwater realm.
Henderson Beach State Park
Henderson Beach State Park is a pristine jewel of Florida's Emerald Coast, boasting over a mile of natural white sandy shoreline buffered by undulating dunes. This untouched coastal refuge provides a serene backdrop for marine enthusiasts to encounter a variety of wildlife. Sea turtles, particularly during their nesting season, are a notable highlight, leaving behind their distinctive trails as they trudge ashore to lay eggs.
Photo by Shaun Jones on Unsplash
The park's gentle surf occasionally reveals schools of small fish and playful dolphins in the distance, frolicking in the waves. Moreover, the shoreline is a magnet for various seabirds like terns, gulls, and pelicans, which can be seen diving for fish or gracefully coasting on the sea breezes. A visit to Henderson Beach State Park offers not just scenic beauty, but also a window into the vibrant marine life of the region.
Crab Island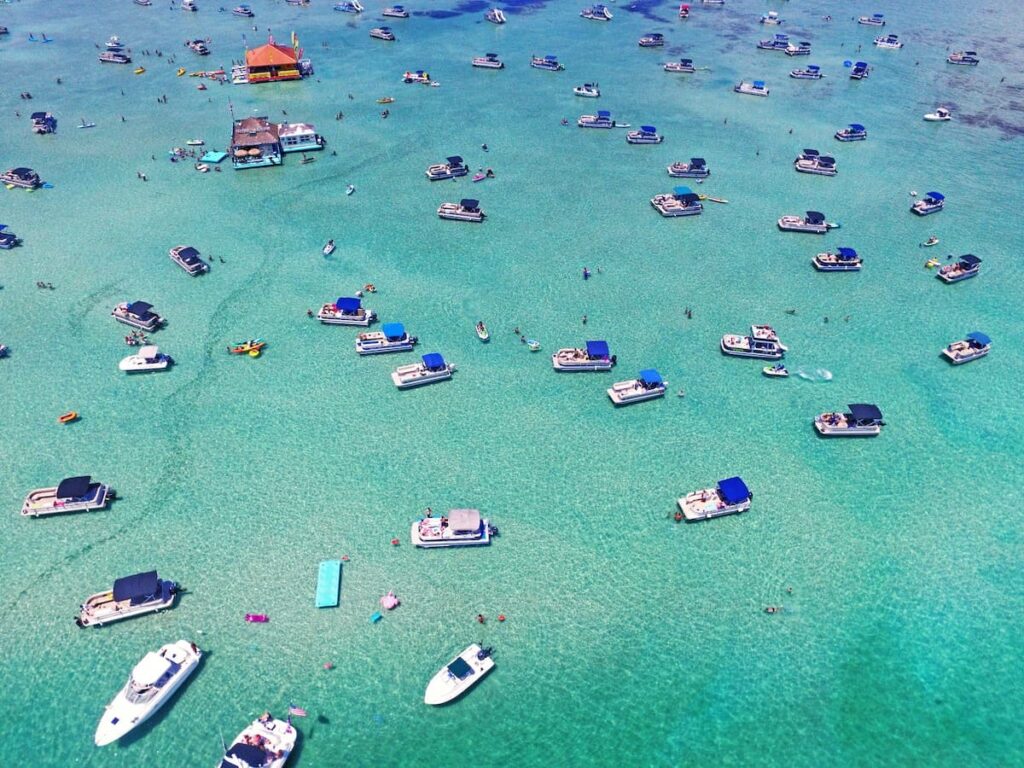 Crab Island in Destin is not your typical island—it's an underwater sandbar that emerges as a shallow playground during low tide. Situated just north of the East Pass, this aquatic hotspot is renowned not only for its crystal-clear waters and recreational activities but also for its vibrant marine life.
Photo by Tamara Malaniy on Unsplash
Dolphins are a frequent and delightful sight, often seen playing and hunting in the surrounding deeper waters. The translucent shallows are home to a variety of small marine creatures, including crabs, minnows, and the occasional stingray. As boaters anchor to enjoy this submerged paradise, they often get a close-up view of schools of fish darting around.
Above water, seabirds like gulls and pelicans enhance the area's natural allure, often diving to snatch up a fishy snack. Crab Island seamlessly melds leisure with nature, offering visitors a unique experience of Destin's marine biodiversity.
Destin Harbour
Destin Harbour is a bustling epicenter of activity in Destin, where the vibrant spirit of the sea converges with human enterprise. The harbor, with its intertwining currents from the Gulf of Mexico and Choctawhatchee Bay, attracts a plethora of marine life. Dolphins, known for their playful nature, frequently grace the area, especially during the tranquil hours of early morning and late afternoon. Anglers often reel in catches like red snapper, grouper, and amberjack, showcasing the harbor's rich piscatorial offerings.
Occasionally, visitors might also spot rays skimming the sandy bottoms or pelicans diving headfirst into the water, emerging triumphantly with fish in their beaks. Amidst the backdrop of charter boats and docked vessels, Destin Harbor offers a captivating glimpse of the marine world coexisting with urban life. Book a dolphin cruise or a snorkelling expedition right at Destin Harbour to see marine life up close.
Aquariums and Marine Exhibits
If you've finished visiting Destin's marine wildlife hotspots and still craving some more encounters with these stunning creatures, come check out Destin's aquariums and marine exhibits for a more in-depth and educational experience.
Gulfarium Marine Adventure Park
Gulfarium Marine Adventure Park, located near Destin in Fort Walton Beach, offers an immersive experience into the mesmerizing world of marine life. Far from the unpredictability of the wild, this marine park brings visitors face-to-face with a diverse range of ocean inhabitants.
The star attractions include playful dolphins and gentle sea lions, captivating audiences with their acrobatics and intelligence. The park also houses graceful stingrays, slow-moving sea turtles, and a colorful array of tropical fish, each weaving a tale of the ocean's vast biodiversity.
Interactive shows and hands-on encounters provide guests with both entertainment and education, nurturing a deeper appreciation for the marine world. Whether it's the allure of a dolphin's smile or the curiosity in a penguin's eyes, the Gulfarium Marine Adventure Park bridges the gap between humans and the intriguing creatures of the deep.
Emerald Coast Science Center
Emerald Coast Science Center, also situated just a short distance from Destin in Fort Walton Beach, is a beacon of exploration and learning for both the young and young at heart. While not exclusively focused on marine life, the center does offer intriguing glimpses into the aquatic world. Their touch tanks stand out as a major highlight, allowing visitors to get up close and personal with marine inhabitants such as sea stars, hermit crabs, and other tide pool denizens.
These hands-on experiences are complemented by informative displays, providing insights into the biology and behavior of these creatures. Beyond marine life, the center delves into a range of scientific domains, from robotics to physics. Yet, for those enchanted by the mysteries of the deep, the Emerald Coast Science Center offers a tactile and educational journey through the lesser-seen corners of marine life.
Fin-tastic Discoveries Await!
In the heart of Florida's Emerald Coast, Destin offers a maritime adventure like no other. From playful dolphins dancing in the waves to the gentle touch of sea stars at interactive centers, the marine treasures here await every eager explorer. As you embark on your journey through Destin's rich aquatic tapestry, may every splash and shimmer bring you closer to the wonders of the deep. Happy exploring! 🐬